Stambaugh and Gressman
Max Stambaugh (71H) and Phil Gressman (7c) battle down the front stretch of I-96 Speedway

Ruhl and Martin
Ryan Ruhl in the Ken Mackey Racing 25 and Liam Martin (9) racing side by side at I-96 Speedway!
Sams and Jones
Danny Sams III (24D) and Linden Jones (19) in the Randerson Racing cars at I-96 Speedway.

Dussel
Nate Dussel wins at I-96 Speedway in the Fausey Farms #1 car out of Gibsonburg, OH.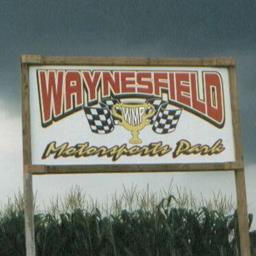 5/28/2023 - Waynesfield Raceway Park
Waynesfield, OH
Memorial Weekend Sunday Night Special
Great Lakes Super Sprints presented by Engine Pro & ARP and Great Lakes Traditional Sprints presented by PErfit visits Waynesfield Raceway Park for the 2nd time of the season.
Great Lakes Super Sprints

30 entries

NRA Sprint Invaders,GLSS-Great Lakes Super Sprints

Great Lakes Traditional Sprints

21 entries

Great Lakes Traditional Sprints
Full Event Information on MyRacePass
Great Lakes Super Sprints
Finish
Start
#
Competitor
Hometown
+/-
1
1
22H
Randy Hannagan San Jose, CA
San Jose, CA
-
2
3
X
Mike Keegan Fremont, OH
Fremont, OH
1
3
5
71H
Max Stambaugh Lima, OH
Lima, OH
2
4
7
7C
Phil Gressman Fremont, OH
Fremont, OH
3
5
11
11G
Luke Griffith Sandusky, OH
Sandusky, OH
6
6
6
2P
Ricky Peterson Rawson, OH
Rawson, OH
-
7
10
24D
Danny Sams III North Port, FL
North Port, FL
3
8
4
24
Kobe Allison Lima, OH
Lima, OH
-4
9
2
16C
Tylar Rankin Coldwater, MI
Coldwater, MI
-7
10
9
23
Devon Dobie Wapakoneta, OH
Wapakoneta, OH
-1
11
12
50YR
Ryan Ruhl Coldwater, MI
Coldwater, MI
1
12
17
5J
Jake Hesson Marysville, OH
Marysville, OH
5
13
19
66
Chase Dunham Leipsic, OH
Leipsic, OH
6
14
14
85
Dustin Daggett Grand Ledge, MI
Grand Ledge, MI
-
15
21
17
Jared Horstman Cloverdale, OH
Cloverdale, OH
6
16
13
2
Kyle Sauder Archbold, OH
Archbold, OH
-3
17
20
49I
John Ivy Fremont, OH
Fremont, OH
3
18
18
22M
Dan McCarron Britton, MI
Britton, MI
-
19
16
20I
Kelsey Ivy Fremont, OH
Fremont, OH
-3
20
15
31
Jac Nickles Harrod, OH
Harrod, OH
-5
21
8
0
Brayton Phillips Findlay, OH
Findlay, OH
-13
22
22
51
Caleb Helms Findlay, OH
Findlay, OH
-
Finish
Start
#
Competitor
Hometown
+/-
1
4
5J
Jake Hesson Marysville, OH
Marysville, OH
3
2
3
22M
Dan McCarron Britton, MI
Britton, MI
1
3
1
66
Chase Dunham Leipsic, OH
Leipsic, OH
-2
4
2
49I
John Ivy Fremont, OH
Fremont, OH
-2
Top 4 transfer
5
12
17
Jared Horstman Cloverdale, OH
Cloverdale, OH
7
6
5
51
Caleb Helms Findlay, OH
Findlay, OH
-1
7
9
88N
Frank Neill Vickery, OH
Vickery, OH
2
8
6
70
Eli Lakin Buchanan, MI
Buchanan, MI
-2
9
7
2B
Noah Dunlap Wapakoneta, OH
Wapakoneta, OH
-2
10
11
11H
Caleb Harmon Elida, OH
Elida, OH
1
11
10
46
Ryan Coniam Burlington, ON
Burlington, ON
-1
12
8
27
Brad Lamberson Parma, MI
Parma, MI
-4
DNS
13
11N
Ed Neumeister Upper Sandusky, OH
Upper Sandusky, OH
-
DNS
14
14H
Darin Naida Adrian, MI
Adrian, MI
-
Finish
Start
#
Competitor
Hometown
+/-
1
2
16C
Tylar Rankin Coldwater, MI
Coldwater, MI
1
2
3
22H
Randy Hannagan San Jose, CA
San Jose, CA
1
3
1
11G
Luke Griffith Sandusky, OH
Sandusky, OH
-2
4
4
23
Devon Dobie Wapakoneta, OH
Wapakoneta, OH
-
Top 4 transfer
5
5
66
Chase Dunham Leipsic, OH
Leipsic, OH
-
6
6
51
Caleb Helms Findlay, OH
Findlay, OH
-
7
7
88N
Frank Neill Vickery, OH
Vickery, OH
-
DNS
8
11N
Ed Neumeister Upper Sandusky, OH
Upper Sandusky, OH
-
Finish
Start
#
Competitor
Hometown
+/-
1
1
0
Brayton Phillips Findlay, OH
Findlay, OH
-
2
3
7C
Phil Gressman Fremont, OH
Fremont, OH
1
3
4
24D
Danny Sams III North Port, FL
North Port, FL
1
4
8
85
Dustin Daggett Grand Ledge, MI
Grand Ledge, MI
4
Top 4 transfer
5
7
49I
John Ivy Fremont, OH
Fremont, OH
2
6
6
70
Eli Lakin Buchanan, MI
Buchanan, MI
-
7
5
46
Ryan Coniam Burlington, ON
Burlington, ON
-2
8
2
14H
Darin Naida Adrian, MI
Adrian, MI
-6
Finish
Start
#
Competitor
Hometown
+/-
1
2
X
Mike Keegan Fremont, OH
Fremont, OH
1
2
4
71H
Max Stambaugh Lima, OH
Lima, OH
2
3
3
50YR
Ryan Ruhl Coldwater, MI
Coldwater, MI
-
4
1
31
Jac Nickles Harrod, OH
Harrod, OH
-3
Top 4 transfer
5
5
22M
Dan McCarron Britton, MI
Britton, MI
-
6
6
2B
Noah Dunlap Wapakoneta, OH
Wapakoneta, OH
-
7
7
11H
Caleb Harmon Elida, OH
Elida, OH
-
Finish
Start
#
Competitor
Hometown
+/-
1
1
2P
Ricky Peterson Rawson, OH
Rawson, OH
-
2
4
24
Kobe Allison Lima, OH
Lima, OH
2
3
3
2
Kyle Sauder Archbold, OH
Archbold, OH
-
4
7
20I
Kelsey Ivy Fremont, OH
Fremont, OH
3
Top 4 transfer
5
6
5J
Jake Hesson Marysville, OH
Marysville, OH
1
6
5
27
Brad Lamberson Parma, MI
Parma, MI
-1
7
2
17
Jared Horstman Cloverdale, OH
Cloverdale, OH
-5
Finish
Start
#
Competitor
Hometown
Time
1
7
23
Devon Dobie Wapakoneta, OH
Wapakoneta, OH
10.963
2
1
24D
Danny Sams III North Port, FL
North Port, FL
11.011
3
2
71H
Max Stambaugh Lima, OH
Lima, OH
11.038
4
8
24
Kobe Allison Lima, OH
Lima, OH
11.078
5
11
22H
Randy Hannagan San Jose, CA
San Jose, CA
11.145
6
26
7C
Phil Gressman Fremont, OH
Fremont, OH
11.152
7
18
50YR
Ryan Ruhl Coldwater, MI
Coldwater, MI
11.157
8
28
2
Kyle Sauder Archbold, OH
Archbold, OH
11.162
9
4
16C
Tylar Rankin Coldwater, MI
Coldwater, MI
11.163
10
6
14H
Darin Naida Adrian, MI
Adrian, MI
11.217
11
20
X
Mike Keegan Fremont, OH
Fremont, OH
11.228
12
25
17
Jared Horstman Cloverdale, OH
Cloverdale, OH
11.243
13
9
11G
Luke Griffith Sandusky, OH
Sandusky, OH
11.294
14
3
0
Brayton Phillips Findlay, OH
Findlay, OH
11.298
15
10
31
Jac Nickles Harrod, OH
Harrod, OH
11.347
16
24
2P
Ricky Peterson Rawson, OH
Rawson, OH
11.351
17
23
66
Chase Dunham Leipsic, OH
Leipsic, OH
11.352
18
22
46
Ryan Coniam Burlington, ON
Burlington, ON
11.400
19
29
22M
Dan McCarron Britton, MI
Britton, MI
11.403
20
27
27
Brad Lamberson Parma, MI
Parma, MI
11.417
21
5
51
Caleb Helms Findlay, OH
Findlay, OH
11.427
22
14
70
Eli Lakin Buchanan, MI
Buchanan, MI
11.494
23
15
2B
Noah Dunlap Wapakoneta, OH
Wapakoneta, OH
11.508
24
21
5J
Jake Hesson Marysville, OH
Marysville, OH
11.511
25
19
88N
Frank Neill Vickery, OH
Vickery, OH
11.621
26
30
49I
John Ivy Fremont, OH
Fremont, OH
11.883
27
16
11H
Caleb Harmon Elida, OH
Elida, OH
11.962
28
13
20I
Kelsey Ivy Fremont, OH
Fremont, OH
11.970
29
12
11N
Ed Neumeister Upper Sandusky, OH
Upper Sandusky, OH
11.970
30
17
85
Dustin Daggett Grand Ledge, MI
Grand Ledge, MI
11.970
Great Lakes Traditional Sprints
Finish
Start
#
Competitor
Hometown
+/-
1
4
23K
Thomas Meseraull San Jose, CA
San Jose, CA
3
2
2
33M
Matt Westfall Pleasant Hill, OH
Pleasant Hill, OH
-
3
6
87
Paul Dues Minster, OH
Minster, OH
3
4
5
41
Ricky Lewis Camarillo, CA
Camarillo, CA
1
5
3
6
Isaac Chapple Willow Branch, IN
Willow Branch, IN
-2
6
8
21
Dallas Hewitt Troy, OH
Troy, OH
2
7
12
21B
Ryan Barr Piqua, OH
Piqua, OH
5
8
15
9N
Luke Hall Ludlow Falls, OH
Ludlow Falls, OH
7
9
10
49
Brian Ruhlman Clark Lake, MI
Clark Lake, MI
1
10
9
2DI
Dustin Ingle Lima, OH
Lima, OH
-1
11
14
33
Jason Ferguson Fremont, MI
Fremont, MI
3
12
7
20
Tayte Williamson Rushylvania, OH
Rushylvania, OH
-5
13
19
33P
RJ Payne Montrose, MI
Montrose, MI
6
14
21
4
Andrew Heitkamp North Star, OH
North Star, OH
7
15
17
28
Curt Elliott Fletcher, OH
Fletcher, OH
2
16
20
97X
Rodney Hurst Tiffin, OH
Tiffin, OH
4
17
11
24
Lee Underwood Troy, OH
Troy, OH
-6
18
1
1H
Korbyn Hayslett Troy, OH
Troy, OH
-17
19
18
25
Max Frank Williamston, MI
Williamston, MI
-1
20
13
21H
Travis Hery Pigua, OH
Pigua, OH
-7
21
16
0
Steve Irwin Fenton, MI
Fenton, MI
-5
Finish
Start
#
Competitor
Hometown
+/-
1
4
33M
Matt Westfall Pleasant Hill, OH
Pleasant Hill, OH
3
2
2
23K
Thomas Meseraull San Jose, CA
San Jose, CA
-
3
1
20
Tayte Williamson Rushylvania, OH
Rushylvania, OH
-2
4
6
49
Brian Ruhlman Clark Lake, MI
Clark Lake, MI
2
5
3
21H
Travis Hery Pigua, OH
Pigua, OH
-2
6
5
0
Steve Irwin Fenton, MI
Fenton, MI
-1
7
7
33P
RJ Payne Montrose, MI
Montrose, MI
-
All transfer
Finish
Start
#
Competitor
Hometown
+/-
1
4
1H
Korbyn Hayslett Troy, OH
Troy, OH
3
2
3
41
Ricky Lewis Camarillo, CA
Camarillo, CA
1
3
2
21
Dallas Hewitt Troy, OH
Troy, OH
-1
4
1
24
Lee Underwood Troy, OH
Troy, OH
-3
5
5
33
Jason Ferguson Fremont, MI
Fremont, MI
-
6
6
28
Curt Elliott Fletcher, OH
Fletcher, OH
-
7
7
97X
Rodney Hurst Tiffin, OH
Tiffin, OH
-
All transfer
Finish
Start
#
Competitor
Hometown
+/-
1
1
87
Paul Dues Minster, OH
Minster, OH
-
2
4
6
Isaac Chapple Willow Branch, IN
Willow Branch, IN
2
3
3
2DI
Dustin Ingle Lima, OH
Lima, OH
-
4
5
21B
Ryan Barr Piqua, OH
Piqua, OH
1
5
7
9N
Luke Hall Ludlow Falls, OH
Ludlow Falls, OH
2
6
2
25
Max Frank Williamston, MI
Williamston, MI
-4
7
6
4
Andrew Heitkamp North Star, OH
North Star, OH
-1
All transfer
Finish
Start
#
Competitor
Hometown
Time
1
11
33M
Matt Westfall Pleasant Hill, OH
Pleasant Hill, OH
12.328
2
4
1H
Korbyn Hayslett Troy, OH
Troy, OH
12.341
3
8
6
Isaac Chapple Willow Branch, IN
Willow Branch, IN
12.397
4
1
21H
Travis Hery Pigua, OH
Pigua, OH
12.443
5
6
41
Ricky Lewis Camarillo, CA
Camarillo, CA
12.446
6
3
2DI
Dustin Ingle Lima, OH
Lima, OH
12.543
7
9
23K
Thomas Meseraull San Jose, CA
San Jose, CA
12.665
8
16
21
Dallas Hewitt Troy, OH
Troy, OH
12.676
9
7
25
Max Frank Williamston, MI
Williamston, MI
12.692
10
21
20
Tayte Williamson Rushylvania, OH
Rushylvania, OH
12.785
11
5
24
Lee Underwood Troy, OH
Troy, OH
12.826
12
14
87
Paul Dues Minster, OH
Minster, OH
12.876
13
13
0
Steve Irwin Fenton, MI
Fenton, MI
12.890
14
15
33
Jason Ferguson Fremont, MI
Fremont, MI
12.931
15
17
21B
Ryan Barr Piqua, OH
Piqua, OH
13.100
16
20
49
Brian Ruhlman Clark Lake, MI
Clark Lake, MI
13.347
17
12
28
Curt Elliott Fletcher, OH
Fletcher, OH
14.017
18
10
4
Andrew Heitkamp North Star, OH
North Star, OH
14.056
19
18
33P
RJ Payne Montrose, MI
Montrose, MI
14.563
DNS
2
97X
Rodney Hurst Tiffin, OH
Tiffin, OH
14.563
DNS
19
9N
Luke Hall Ludlow Falls, OH
Ludlow Falls, OH
14.563