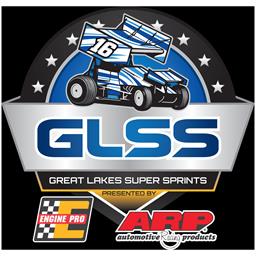 8/19/2023
GLSS-Great Lakes Super Sprints
---
HICKLE WINS AT THE BATTLE GROUNDS
Quincy, MI - Visiting the Battle Grounds of Butler Motor Speedway for the first time, JJ Hickle (Quilcene, WA) adjusted quickly and ended the night with feature wins in the Home Pro Roofing 360 and 410 cars. A pretty good night for Hickle and his whole team.
Going out on the track first tonight, the Great Lakes Super Sprints cars hot lapped/qualified at the same time with 3 cars on the track. At the end of the qualification sessions, Hicle set on top of the field earning him the Ti22 Perforamnce Fast Qualifier, with an average lap time of 13.897 seconds or roughly 97 mph. Ryan Ruhl (Coldwater, MI) and Dustin Daggett (Portland, MI) rounded out the top 3 spots.
Jac Nickles (Harrod, OH) put in a solid night at Butler starting with winning the Engler Machine & Tool Heat race 1, with Hickle and Eli Lakin (Buchanan, MI) rounding out the podium.
In the Coffey & Sons Plumbing & Heating Heat 2, Keith Sheffer, Jr (Jerome, MI) drove the Rhino Racing 10BR car to victory lane with Brad Lamberson (Parma, MI) and Kelsey Ivy (Fremont, OH) rounding out the top 3.
The final heat race presented by Home Pro Roofing, was won by veteran Gregg Dalman (Bellevue, MI) and was accompanied by Kyle Peters (Mansfield, OH) and Chase Ridenour (Perry, MI).
Rolling out first for features, we were treated to a well prepared track that proved to be fast and racey all night. Hickle, who started on the outside of the front row, jumped out front for the lead on the first lap and he would never relinquish that lead the rest of the feature.
Nickles was able to keep Hickle in his sights and follow him through lap traffic for 21 laps.. Behind Nicles, Sheffer had managed to work his way into 3rd from his 6th spot. After cruising around hehind Nickles for 4 laps, Sheffer was able to get around Nickles in lap 22. Taking the checkered flag hehind Hickle, Sheffer claimed 2nd and Nickles finished a soldi 3rd, with Lamberson and Ruhl rounding out the top 5.
The Great Lakes Super Sprints presented by Engine Pro and ARP will return to action in two weeks on Friday, September 1st , at I-96 Speedway near Lake Odessa, MI.
To catch tonight's heat races and features, along with all the GLSS/NRA races, head over to the Great Lakes Super Sprints YouTube page. Make sure to follow us on Facebook, TikTok, Instagram, and Twitter for the latest updates. For news, schedules, results, and points, visit www.greatlakessprints.com and select your favorite division.
Thank you to our sponsors who are the ones that allow us to a great show to your local tracks. Please help us by supporting the sponsors listed below….
PErfit Corporation
Engine Pro & ARP Racing
Hoosier Racing Tires
Beacon & Bridge Markets
Operating Engineers Local 324
Engler Machine & Tool
Home Pro Roofing
Jim Coffey and Sons Plumbing & Heating
Howard Johnsons by Wyndham
Specialty Fuels & Logistics
Environmental Waste & Recovery Service
Precision Engine Works
TC Power Sports
Percision Engine Works
Media Results for 8/19/2023 at Butler Speedway - Quincy, MI
Great Lakes Super Sprints 20 Entries
A Feature 1 25 Laps | 00:12:58.690 | Engine Pro
50YR-JJ Hickle[2]; 2. 10BR-Keith Sheffer Jr[5]; 3. 31-Jac Nickles[1]; 4. 27-Brad Lamberson[3]; 5. 14H-Ryan Ruhl[7]; 6. 49T-Gregg Dalman[6]; 7. 70-Eli Lakin[9]; 8. 71H-Max Stambaugh[14]; 9. 01-Chase Ridenour[11]; 10. 87-Logan Easterday[12]; 11. 85-Dustin Daggett[8]; 12. 66-Chase Dunham[13]; 13. 20I-Kelsey Ivy[10]; 14. 3A-Mike Astrauskas[17]; 15. 07-Shane Simmons[19]; 16. 67-Kevin Martens[18]; 17. 21T-Troy Chehowski[16]; 18. 97-Kyle Peters[4]; 19. (DNS) 83-Adam Cruea; 20. (DNS) X-Mike Keegan
Heat 1 8 Laps | Engler Machine & Tool
31-Jac Nickles[1]; 2. 50YR-JJ Hickle[4]; 3. 70-Eli Lakin[2]; 4. 87-Logan Easterday[3]; 5. 66-Chase Dunham[5]; 6. 21T-Troy Chehowski[6]; 7. 07-Shane Simmons[7]
Heat 2 8 Laps | Coffey & Sons Plumbing & Heating
10BR-Keith Sheffer Jr[1]; 2. 27-Brad Lamberson[2]; 3. 20I-Kelsey Ivy[3]; 4. 14H-Ryan Ruhl[4]; 5. 71H-Max Stambaugh[5]; 6. 3A-Mike Astrauskas[6]; 7. (DNS) X-Mike Keegan
Heat 3 8 Laps | 00:06:05.711 | HomePro Roofing
49T-Gregg Dalman[1]; 2. 97-Kyle Peters[2]; 3. 01-Chase Ridenour[3]; 4. 85-Dustin Daggett[4]; 5. 83-Adam Cruea[5]; 6. 67-Kevin Martens[6]
Qualifying 1 | 00:02:29.999 | TI22 Performance
50YR-JJ Hickle, 00:13.897[11]; 2. 14H-Ryan Ruhl, 00:14.002[20]; 3. 85-Dustin Daggett, 00:14.226[19]; 4. 87-Logan Easterday, 00:14.256[16]; 5. 20I-Kelsey Ivy, 00:14.281[3]; 6. 01-Chase Ridenour, 00:14.317[17]; 7. 70-Eli Lakin, 00:14.379[7]; 8. 27-Brad Lamberson, 00:14.466[6]; 9. 97-Kyle Peters, 00:14.473[5]; 10. 31-Jac Nickles, 00:14.514[14]; 11. 10BR-Keith Sheffer Jr, 00:14.702[12]; 12. 49T-Gregg Dalman, 00:14.733[4]; 13. 66-Chase Dunham, 00:14.763[10]; 14. 71H-Max Stambaugh, 00:14.774[9]; 15. 83-Adam Cruea, 00:15.008[1]; 16. 21T-Troy Chehowski, 00:15.161[8]; 17. 3A-Mike Astrauskas, 00:15.173[2]; 18. 67-Kevin Martens, 00:15.904[18]; 19. 07-Shane Simmons, 00:16.958[15]; 20. (DNS) X-Mike Keegan, 00:16.958
---
Article Credit: GLSS Staff Writer
Submitted By: Barry Marlow
Article Media
Back to News