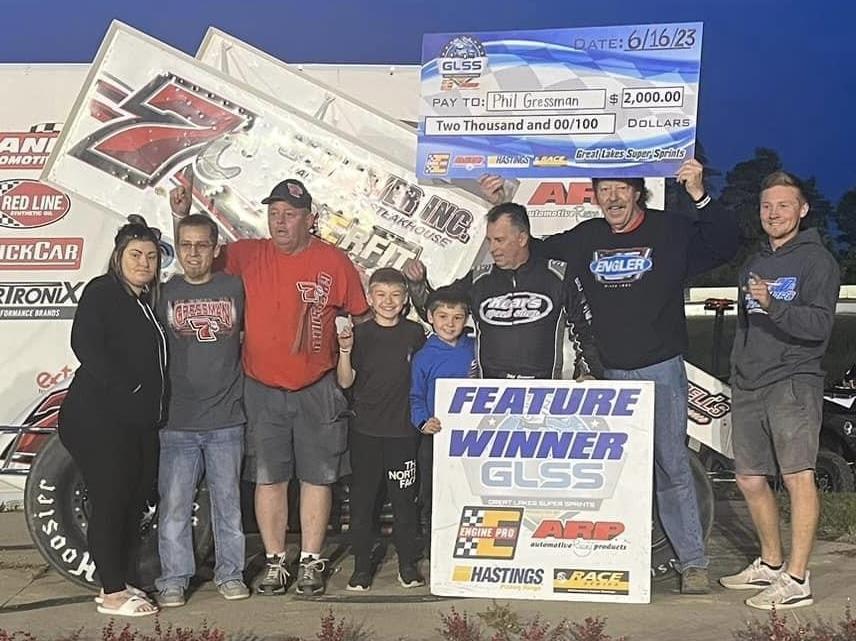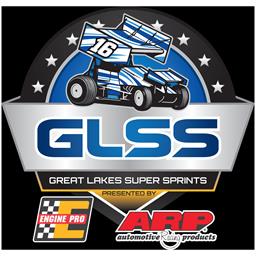 6/16/2023
GLSS-Great Lakes Super Sprints
---
OHIO GASMAN WINS AT HARTFORD
Hartford, MI - Great Lakes Super Sprints presented by Engine Pro & ARP rolled into Hartford Speedway for their first appearance of the 2023 season with 29 cars. With all 6 of the GLSS Champions on hand, the 2019 Champion, Phil Gressman (Fremont, OH) navigated the field and the evening to end up on top of the podium, with the reigning Champion, Max Stambaugh (Elida, OH) taking home 2nd and Brad Lamberson (Parma, MI) rounding out the podium with 3rd.
At the last GLSS race of the 2022 season at Hartford, Gressman had truck trouble on the way to the track. Gressman's crew took advantage of the break down along I-94 and got the car ready to roll when they got to the track. Rolling into the pits, firing the car and rolling onto the track in the last group and setting fast time! Gressman went on to a perfect trifecta by setting quick time, won his heat race and won the feature.
Tonight Gressman never broke down on the highway, was second quick, was 2nd in his heat race, but ended up in the winners circle again! Putting him ahead of Max Stambaugh in the Wolverine Division and the Buckeye Divisions of GLSS.
Tonight's Hoosier Racing Tires Hard Charger was Keith Sheffer Jr (Jerome, MI) who moved up 7 spots from 15th to finish 8th.
Other noteable returns to the track tonight were Chase Ridenour (Perry, MI) the inaugural champion of GLSS in 2016. Chase hasn't ran regularly for the past two years, but made his 2023 debut in the new Danny Williams Racing #01 machine. Also returning tonight after a two year absence was Garrett Saunders, driving the #71 Family Car.
The Wolverine Region of Great Lakes Super Sprints presented by Engine Pro & ARP is back in action today, Saturday, June 17th at the "Battle Grounds" of Butler Speedway. The Buckeye Region will be back in action on Friday, June 23rd at Limaland Motorsports Park for the Tim Allision Memorial Race!
To catch tonights heat races and features, and all the GLSS/NRA races, go to the Great Lakes Super Sprints YouTube page. Be sure to follow the page and follow us on Facebook,Twitter and TikTok! For all the news, schedules, results and points, go to www.greatlakessprints.com and click on your favorite division.
Thank you to all of our Sponsors who allow us to do what we love and race every weekend. Your support of our sponsors helps show them your appreciation for bringing great sprint car racing to all local dirt tracks.
PErfit Corporation
Engine Pro & ARP Racing
Hoosier Racing Tires
Beacon & Bridge Markets
Operating Engineers Local 324
Engler Machine & Tool
Home Pro Roofing
Jim Coffey and Sons Plumbing & Heating
Howard Johnsons by Wyndham
Specialty Fuels & Logistics
Environmental Waste & Recovery Service
Precision Engine Works
Greater North Power Sports & Rentals
TC Power Sports
Genesis Rescue Systems
Media Results for 6/16/2023 at Hartford Speedway - Hartford, MI
Great Lakes Super Sprints 29 Entries
Engine Pro A Main 25 Laps | 00:07:05.000
7C-Phil Gressman[2]; 2. 71H-Max Stambaugh[5]; 3. 27-Brad Lamberson[4]; 4. 24D-Danny Sams III[7]; 5. 17S-Reece Saldana[11]; 6. 71-Garrett Saunders[3]; 7. 19J-Linden Jones[8]; 8. 86-Keith Sheffer Jr[15]; 9. 16C-Tylar Rankin[14]; 10. 22M-Dan McCarron[12]; 11. 50YR-Ryan Ruhl[18]; 12. 01-Chase Ridenour[16]; 13. 14H-Darin Naida[13]; 14. 42-Boston Mead[21]; 15. 49T-Gregg Dalman[19]; 16. 19-Jett Mann[20]; 17. 70-Eli Lakin[22]; 18. 87-Logan Easterday[10]; 19. 85-Dustin Daggett[6]; 20. 16B-Kyle Locke[1]; 21. X-Mike Keegan[17]; 22. (DNS) 17-Jared Horstman
Midland Steel Last Chance Feature 12 Laps | 00:03:35.000
X-Mike Keegan[2]; 2. 50YR-Ryan Ruhl[3]; 3. 49T-Gregg Dalman[4]; 4. 19-Jett Mann[7]; 5. 42-Boston Mead[6]; 6. 70-Eli Lakin[12]; 7. 20I-Kelsey Ivy[8]; 8. 2-AJ Aldrich[9]; 9. 3A-Mike Astrauskas[5]; 10. 20A-Andy Chehowski[10]; 11. 31-Terry Harrington[13]; 12. (DNS) 14-Kyle Poortenga; 13. (DNS) 5X-Trent Musk
Engler Machine & Tool Heat 1 8 Laps | 00:07:30.000
71H-Max Stambaugh[3]; 2. 19J-Linden Jones[1]; 3. 17S-Reece Saldana[5]; 4. 17-Jared Horstman[4]; 5. 14-Kyle Poortenga[2]; 6. 3A-Mike Astrauskas[6]; 7. 2-AJ Aldrich[7]; 8. (DNS) 31-Terry Harrington
Coffey & Sons Plumbing & Heating Heat 2 8 Laps | 00:05:44.000
24D-Danny Sams III[2]; 2. 7C-Phil Gressman[4]; 3. 22M-Dan McCarron[3]; 4. 86-Keith Sheffer Jr[5]; 5. X-Mike Keegan[1]; 6. 42-Boston Mead[6]; 7. 20A-Andy Chehowski[7]
Beacon & Bridge Markets Heat 3 8 Laps | 00:05:34.000
85-Dustin Daggett[3]; 2. 16B-Kyle Locke[1]; 3. 14H-Darin Naida[2]; 4. 87-Logan Easterday[4]; 5. 50YR-Ryan Ruhl[5]; 6. 19-Jett Mann[6]; 7. 5X-Trent Musk[7]
Home Pro Roofing Heat 4 8 Laps | 00:04:24.000
27-Brad Lamberson[4]; 2. 71-Garrett Saunders[2]; 3. 16C-Tylar Rankin[1]; 4. 01-Chase Ridenour[6]; 5. 49T-Gregg Dalman[3]; 6. 20I-Kelsey Ivy[7]; 7. 70-Eli Lakin[5]
Ti22 Performance Fast Qualifier | 00:02:34.000
17-Jared Horstman, 00:14.877[4]; 2. 7C-Phil Gressman, 00:14.941[5]; 3. 87-Logan Easterday, 00:15.011[7]; 4. 27-Brad Lamberson, 00:15.024[11]; 5. 71H-Max Stambaugh, 00:15.067[13]; 6. 22M-Dan McCarron, 00:15.068[2]; 7. 85-Dustin Daggett, 00:15.083[14]; 8. 49T-Gregg Dalman, 00:15.203[20]; 9. 14-Kyle Poortenga, 00:15.207[12]; 10. 24D-Danny Sams III, 00:15.220[9]; 11. 14H-Darin Naida, 00:15.309[10]; 12. 71-Garrett Saunders, 00:15.366[23]; 13. 19J-Linden Jones, 00:15.421[3]; 14. X-Mike Keegan, 00:15.460[16]; 15. 16B-Kyle Locke, 00:15.466[1]; 16. 16C-Tylar Rankin, 00:15.473[22]; 17. 17S-Reece Saldana, 00:15.478[29]; 18. 86-Keith Sheffer Jr, 00:15.563[15]; 19. 50YR-Ryan Ruhl, 00:15.662[27]; 20. 70-Eli Lakin, 00:15.739[17]; 21. 3A-Mike Astrauskas, 00:15.806[21]; 22. 42-Boston Mead, 00:15.907[24]; 23. 19-Jett Mann, 00:15.941[26]; 24. 01-Chase Ridenour, 00:15.972[28]; 25. 2-AJ Aldrich, 00:16.180[6]; 26. 20A-Andy Chehowski, 00:16.229[19]; 27. 5X-Trent Musk, 00:16.231[18]; 28. 20I-Kelsey Ivy, 00:16.255[25]; 29. (DNS) 31-Terry Harrington, 00:16.255
---
Article Credit: GLSS Staff Writer
Submitted By: Barry Marlow
Article Media
Back to News