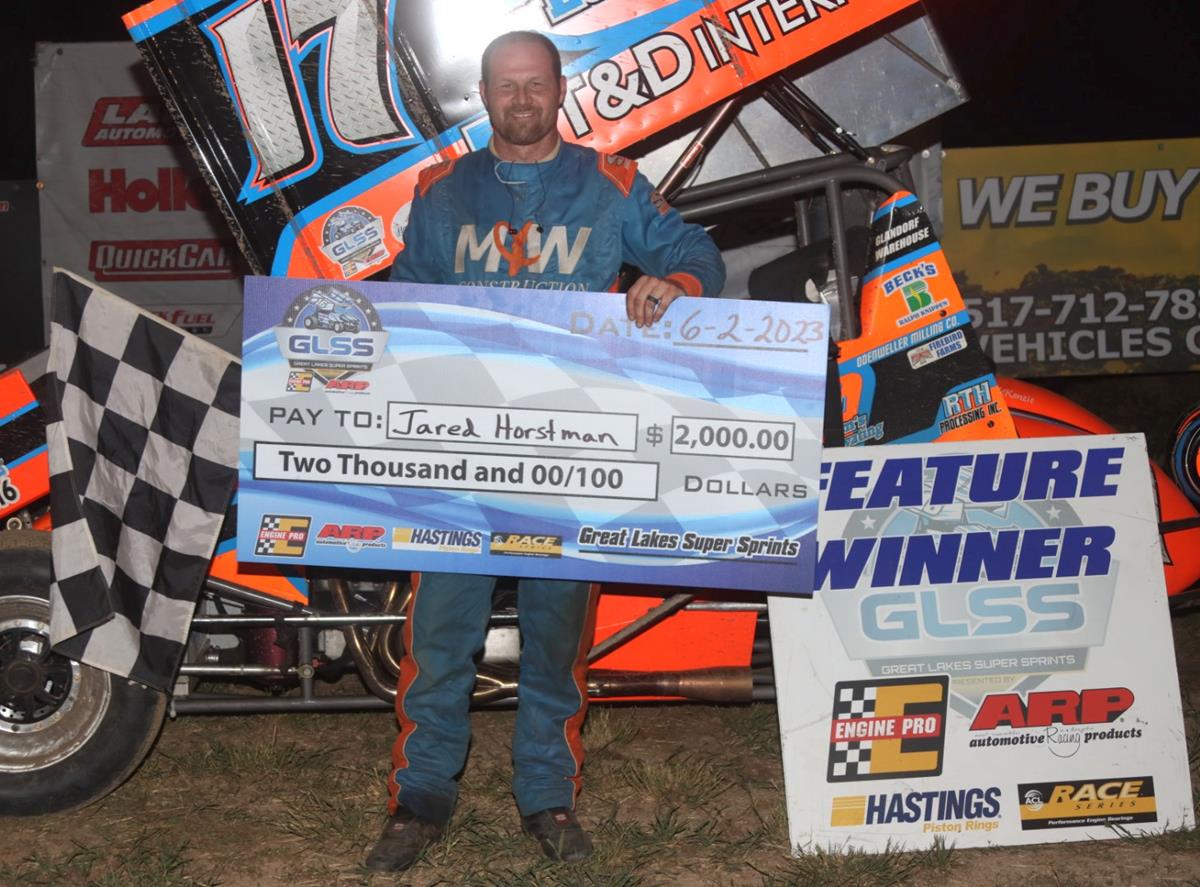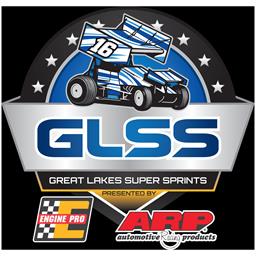 6/3/2023
GLSS-Great Lakes Super Sprints
---
HORSTMAN WINS FOR A SECOND TIME AT I-96 SPEEDWAY
Lake Odessa, MI (Friday, June 2, 2023) -Great Lakes Super Sprints presented by PErfit Engine Pro and ARP (GLSS) had their second race at our home track, I-96 Speedway. The night was packed with a thrilling event of high speed racing and an amazing turnout in the stands. To start this right, we would like to say thank you to all the drivers, fans, sponsors, and staff members who came out to the race and supported us.
Jared Horstman (Cloverdale, OH) started in 5th place and after a caution Hostman charged up on Cole Macedo (Lemoore,CA). Macedo pulled off the track due to a broken drive line and Horstman took the lead. With a couple laps remaining Horstman was able to hold his place and take home the Feature Race for a second time this year at I-96 Speedway.
Max Stambaugh (Elida, OH) moved up 7 positions from 11th to 4th place winning the Hoosier Racing Tire Hard Charger. Andy Chehowski (Coldwater, MI) wins tonight's Engine Pro Lucky Dog!
Dustin Daggett (Grand Ledge, MI) wins the Engler Machine and Tool Heat Race 1. Macedo wins the Home Pro Roofing Heat Race 2. Phil Gressman (Fremont,OH) took home Heat Race 3 presented by Coffey Plumbing and Heating!
Next Up! GLSS and NRA will be racing at Limaland Motorsports Park on June 9th and Hartford Speedway on June 16!!
Thank you to our sponsors who are the ones that allow us to a great show to your local tracks. Please help us by supporting the sponsors listed below….
PErfit Corporation
Engine Pro & ARP Racing
Hoosier Racing Tires
Beacon & Bridge Markets
Operating Engineers Local 324
Engler Machine & Tool
Home Pro Roofing
Jim Coffey and Sons Plumbing & Heating
Howard Johnsons by Wyndham
Specialty Fuels & Logistics
Environmental Waste & Recovery Service
Precision Engine Works
TC Power Sports
Precision Engine Works
Genesis Rescue Systems
Media Results for 6/2/2023 at I-96 Speedway - Lake Odessa, MI
Great Lakes Super Sprints 22 Entries
A Feature 1 25 Laps | 00:16:04.132
17-Jared Horstman[5]; 2. 50YR-Ryan Ruhl[7]; 3. 85-Dustin Daggett[6]; 4. 71H-Max Stambaugh[11]; 5. 7C-Phil Gressman[2]; 6. 23-Devon Dobie[13]; 7. X-Mike Keegan[4]; 8. 16C-Tylar Rankin[12]; 9. 11G-Luke Griffith[3]; 10. 86-Keith Sheffer Jr[16]; 11. 70-Eli Lakin[10]; 12. 42-Boston Mead[15]; 13. 49T-Gregg Dalman[8]; 14. 19-Jett Mann[9]; 15. 3A-Mike Astrauskas[18]; 16. 0-Brayton Phillips[14]; 17. 20A-Andy Chehowski[17]; 18. 50SRS-Cole Macedo[1]; 19. 10-Jason Blonde[19]
Heat 1 8 Laps | 00:04:16.017
85-Dustin Daggett[4]; 2. 17-Jared Horstman[2]; 3. 19-Jett Mann[1]; 4. 16C-Tylar Rankin[3]; 5. 23-Devon Dobie[5]; 6. 86-Keith Sheffer Jr[6]; 7. 10-Jason Blonde[7]; 8. (DNS) 38-Max Frank
Heat 2 8 Laps | 00:02:59.914
50SRS-Cole Macedo[3]; 2. 11G-Luke Griffith[1]; 3. 70-Eli Lakin[5]; 4. 50YR-Ryan Ruhl[4]; 5. 0-Brayton Phillips[2]; 6. 20A-Andy Chehowski[7]; 7. (DNS) 2-AJ Aldrich
Heat 3 8 Laps | 00:10:36.354
7C-Phil Gressman[2]; 2. X-Mike Keegan[1]; 3. 71H-Max Stambaugh[3]; 4. 49T-Gregg Dalman[4]; 5. 42-Boston Mead[5]; 6. 3A-Mike Astrauskas[6]; 7. 67-Kevin Martens[7]
Qualifying 1 | 00:12:58.345
85-Dustin Daggett, 00:14.487[10]; 2. 50YR-Ryan Ruhl, 00:14.497[1]; 3. 49T-Gregg Dalman, 00:14.543[6]; 4. 16C-Tylar Rankin, 00:14.570[17]; 5. 50SRS-Cole Macedo, 00:14.610[22]; 6. 71H-Max Stambaugh, 00:14.620[15]; 7. 17-Jared Horstman, 00:14.645[3]; 8. 0-Brayton Phillips, 00:14.671[2]; 9. 7C-Phil Gressman, 00:14.841[20]; 10. 19-Jett Mann, 00:14.846[5]; 11. 11G-Luke Griffith, 00:14.962[11]; 12. X-Mike Keegan, 00:14.967[18]; 13. 23-Devon Dobie, 00:14.986[14]; 14. 70-Eli Lakin, 00:15.058[4]; 15. 42-Boston Mead, 00:15.069[8]; 16. 86-Keith Sheffer Jr, 00:15.182[16]; 17. 2-AJ Aldrich, 00:15.366[13]; 18. 3A-Mike Astrauskas, 00:15.413[7]; 19. 10-Jason Blonde, 00:15.466[21]; 20. 20A-Andy Chehowski, 00:15.869[19]; 21. (DNS) 67-Kevin Martens, 00:15.869; 22. (DNS) 38-Max Frank, 00:15.869
---
Article Credit: Brooke K. Pulice
Submitted By: Brooke Pulice
Article Media
Back to News