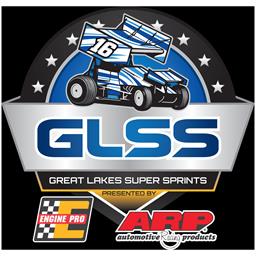 5/29/2023
GLSS-Great Lakes Super Sprints
---
HANNAGAN WINS 2ND IN A ROW AT WAYNESFIELD
Waynesfield, OH - The last night of a busy Memorial Weekend of racing was capped off with a one caution race lasting just 8 1/2 minutes! 22 Great Lakes Super Sprints presented by Engine Pro & ARP, slicing and dicing on the fast Waynesfield Raceway Park put on a show for the 4th time in 3 nights!
Tonights winner, Randy Hannagan (Pittsboro, IN), seemed to put it on cruise control as he jumped out front from the pole position. However Hannagan had a challenger all night in Mike Keegan (Fremont, OH) as Keegan followed Hannagan through lapped traffic, it seemed that Keegan may have a chance to take the lead if Hannagan made a mistake. Unfortunately for Keegan, Hannagan did not make a mistake as he picked his way through the lapped traffic and took the checkered flag 1.27 seconds ahead of Keegan.
Just 1.65 seconds behind Keegan was local resident Max Stambaugh (Elida, OH). Rounding out the top five were Phil Gressman (Fremont, OH) and tonights Hoosier Racing Tire Hard Charger Luke Griffith (Sandusky, OH).
Dustin Daggett (Portland, OH) was tonights Engine Pro Luckey Dog recipiant while Devin Dobie (Wapakonata, OH) was our overall Ti22 Fast Qualifier.
Our next race for the North Division of GLSS is I-96 Speedway on Friday, June 2nd, then back to Limaland for a South Division race on Friday, June 9th.
Thank you to our sponsors who are the ones that allow us to a great show to your local tracks. Please help us by supporting the sponsors listed below….
PErfit Corporation
Engine Pro & ARP Racing
Hoosier Racing Tires
Beacon & Bridge Markets
Operating Engineers Local 324
Engler Machine & Tool
Home Pro Roofing
Jim Coffey and Sons Plumbing & Heating
Howard Johnsons by Wyndham
Specialty Fuels & Logistics
Environmental Waste & Recovery Service
Precision Engine Works
TC Power Sports
Percision Engine Works
Media Results for 5/28/2023 at Waynesfield Raceway Park - Waynesfield, OH
Great Lakes Super Sprints presented by Engine Pro & ARP 30 Entries
PErfit Corporation A Feature 1 25 Laps | 00:13:02.681
22H-Randy Hannagan[1]; 2. X-Mike Keegan[3]; 3. 71H-Max Stambaugh[5]; 4. 7C-Phil Gressman[7]; 5. 11G-Luke Griffith[11]; 6. 2P-Ricky Peterson[6]; 7. 24D-Danny Sams III[10]; 8. 24-Kobe Allison[4]; 9. 16C-Tylar Rankin[2]; 10. 23-Devon Dobie[9]; 11. 50YR-Ryan Ruhl[12]; 12. 5J-Jake Hesson[17]; 13. 66-Chase Dunham[19]; 14. 85-Dustin Daggett[14]; 15. 17-Jared Horstman[21]; 16. 2-Kyle Sauder[13]; 17. 49I-John Ivy[20]; 18. 22M-Dan McCarron[18]; 19. 20I-Kelsey Ivy[16]; 20. 31-Jac Nickles[15]; 21. 0-Brayton Phillips[8]; 22. 51-Caleb Helms[22]
Midland Steel B Feature 1 12 Laps | 00:12:21.599
5J-Jake Hesson[4]; 2. 22M-Dan McCarron[3]; 3. 66-Chase Dunham[1]; 4. 49I-John Ivy[2]; 5. 17-Jared Horstman[12]; 6. 51-Caleb Helms[5]; 7. 88N-Frank Neill[9]; 8. 70-Eli Lakin[6]; 9. 2B-Noah Dunlap[7]; 10. 11H-Caleb Harmon[11]; 11. 46-Ryan Coniam[10]; 12. 27-Brad Lamberson[8]; 13. (DNS) 11N-Ed Neumeister; 14. (DNS) 14H-Darin Naida
Engler Machine & Tool Heat 1 8 Laps | 00:03:14.352
16C-Tylar Rankin[2]; 2. 22H-Randy Hannagan[3]; 3. 11G-Luke Griffith[1]; 4. 23-Devon Dobie[4]; 5. 66-Chase Dunham[5]; 6. 51-Caleb Helms[6]; 7. 88N-Frank Neill[7]; 8. (DNS) 11N-Ed Neumeister
Howard Johnsons Heat 2 8 Laps | 00:14:00.490
0-Brayton Phillips[1]; 2. 7C-Phil Gressman[3]; 3. 24D-Danny Sams III[4]; 4. 85-Dustin Daggett[8]; 5. 49I-John Ivy[7]; 6. 70-Eli Lakin[6]; 7. 46-Ryan Coniam[5]; 8. 14H-Darin Naida[2]
PEffit Heat 3 8 Laps | 00:05:56.742
X-Mike Keegan[2]; 2. 71H-Max Stambaugh[4]; 3. 50YR-Ryan Ruhl[3]; 4. 31-Jac Nickles[1]; 5. 22M-Dan McCarron[5]; 6. 2B-Noah Dunlap[6]; 7. 11H-Caleb Harmon[7]
Specialty Fuels & Logistics Heat 4 8 Laps | 00:12:36.448
2P-Ricky Peterson[1]; 2. 24-Kobe Allison[4]; 3. 2-Kyle Sauder[3]; 4. 20I-Kelsey Ivy[7]; 5. 5J-Jake Hesson[6]; 6. 27-Brad Lamberson[5]; 7. 17-Jared Horstman[2]
Ti22 Performance Fast Qualifying 1
23-Devon Dobie, 00:10.963[7]; 2. 24D-Danny Sams III, 00:11.011[1]; 3. 71H-Max Stambaugh, 00:11.038[2]; 4. 24-Kobe Allison, 00:11.078[8]; 5. 22H-Randy Hannagan, 00:11.145[11]; 6. 7C-Phil Gressman, 00:11.152[26]; 7. 50YR-Ryan Ruhl, 00:11.157[18]; 8. 2-Kyle Sauder, 00:11.162[28]; 9. 16C-Tylar Rankin, 00:11.163[4]; 10. 14H-Darin Naida, 00:11.217[6]; 11. X-Mike Keegan, 00:11.228[20]; 12. 17-Jared Horstman, 00:11.243[25]; 13. 11G-Luke Griffith, 00:11.294[9]; 14. 0-Brayton Phillips, 00:11.298[3]; 15. 31-Jac Nickles, 00:11.347[10]; 16. 2P-Ricky Peterson, 00:11.351[24]; 17. 66-Chase Dunham, 00:11.352[23]; 18. 46-Ryan Coniam, 00:11.400[22]; 19. 22M-Dan McCarron, 00:11.403[29]; 20. 27-Brad Lamberson, 00:11.417[27]; 21. 51-Caleb Helms, 00:11.427[5]; 22. 70-Eli Lakin, 00:11.494[14]; 23. 2B-Noah Dunlap, 00:11.508[15]; 24. 5J-Jake Hesson, 00:11.511[21]; 25. 88N-Frank Neill, 00:11.621[19]; 26. 49I-John Ivy, 00:11.883[30]; 27. 11H-Caleb Harmon, 00:11.962[16]; 28. 20I-Kelsey Ivy, 00:11.970[13]; 29. 11N-Ed Neumeister, 00:11.970[12]; 30. 85-Dustin Daggett, 00:11.970[17]
---
Article Credit: GLSS Staff Writer
Submitted By: Barry Marlow
Article Media
Back to News