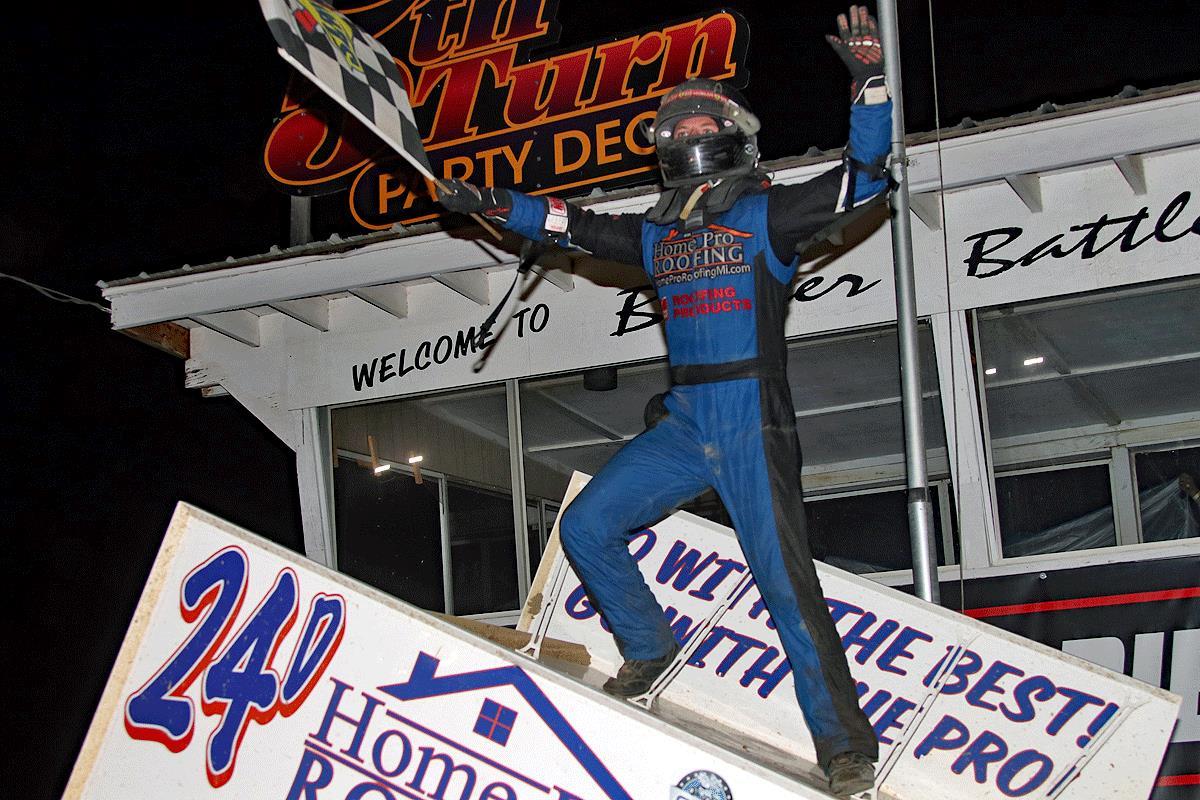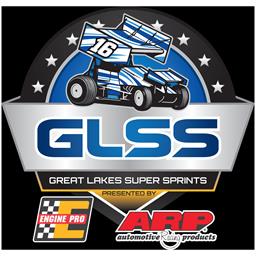 7/2/2022
Great Lakes Super Sprints
---
Sams Wins at the Battle Grounds
Quincy, MI – Danny Sams III of North Port, FL bagged his 3rd feature win of the season with Great Lakes Super Sprints presented by Engine Pro & ARP as they traveled to the Battle Grounds of Butler Motor Speedway for the first of 2 visits this season.
As registration closed tonight, there were 26 GLSS cars signed in for tonight's race at the Battle Grounds. Kyle Locke (Quincy, MI), one of GLSS's original members from the inaugural 2016 season, joined us tonight for the first time in 5 years and was the Ti22 Performance Quick Qualifier with an average lap time of 14.27 seconds or roughly 95 mph. Phil Gressman (Fremont, OH), Sams, Tylar Rankin (Coldwater, MI) and Mike Keegan (Fremont, OH) round out the top five qualifiers.
GLSS kicked off racing for the night with the Engler Machine & Tool Heat 1. On the initial start as it appeared the whole field would clear turns 1 and 2, Rankin gets loose and gathers in Frank Neill (Vickory, OH) in the process, ending both their nights with a broken frame for Rankin and numerous broken parts for Neill. After the double file restart, Max Stambaugh jumps out for the lead and holds on for the win over rookie, Jett Mann (Elkhart, IN). Locke, Tyler Bearden (Brooklyn, MI) and Micheal Summers (Warsaw, IN) rounded out the top 5.
In the Jim Coffey & Sons Plumbing & Heating Heat 2, trouble strikes again in lap 2 as 2nd place runner, Dustin Daggett (Portland, MI) starts to bicycle in the bottom of 3, then gets airborn and has to be returned to the pi
ts on a hook. Restarting single file, Gregg Dalman (Bellevue, MI) wins the heat, with Gressman, Keegan, Brad Lamberson (Parma, MI) and Mike Astrauskas (Pierson, MI) round out the top 5.
Adam Cruea (Troy, OH) wins the Beacon & Briddsge Markets Heat 3, holding off Sams, Keith Sheffer, JR (Jerome, MI), Ryan Ruhl (Coldwater, MI) and Eli Lakin (Buchanan, MI) who rounded out the top 5.
In the Beacon & Bridge Markets Last Chance Feature, Andy Chehowski (Coldwater, MI) wins and transfers to the A-Main, along with Jay Steinebach (Hudsonville, MI), Daggett, Matt Cogley (Findlay, OH) and Zac Broughman (Pittsford, MI).
In the PErfit A-Main, the cars made 61 crossings before the completed the 25 lap feature. Sams got around Gressman around the midway point and never looked back. Gressman held on for 2nd, while Sheffer, Cruea and Dalman rounded out the top 5. Daggett won the Hoosier Hard Charger Award moving up
Great Lakes Super Sprints presented by Engine Pro & ARP will be back in action next Friday, July 8th in Rothsbury, MI at Winston Speedway.
Thank you to all of our sponsors, fans, tracks and teams that support Great Lakes Super Sprints presented by Engine Pro & ARP, without them none of this would be possible. Be sure to follow us on Facebook and Twitter (@GLSprints).
For our schedule, results and points, go to our website at www.greatlakessprints.com.
Engine Pro & ARP (Automotive Racing Products)
PERFIT
Hoosier Racing Tires
Engler Machine & Tool
Jim Coffey & Son Plumbing and Heating
Beacon & Bridge Markets
EWRS, Inc
Specialty Fuels & Logistics
Addvance Heating & Cooling
Midland Steel
Ti22 Performance
MPD Racing
PErfit A Feature 1 25 Laps | 00:09:15.569
24D-Danny Sams III[3]; 2. 7C-Phil Gressman[1]; 3. 86-Keith Sheffer Jr[9]; 4. 21M-Adam Cruea[4]; 5. 49T-Gregg Dalman[6]; 6. 01-Ryan Ruhl[12]; 7. 27-Brad Lamberson[11]; 8. 85-Dustin Daggett[18]; 9. 3-Kyle Locke[7]; 10. 20A-Andy Chehowski[16]; 11. 10S-Jay Steinebach[17]; 12. 2-Tyler Bearden[10]; 13. 55-Matt Cogley[19]; 14. 3A-Mike Astrauskas[14]; 15. 71H-Max Stambaugh[2]; 16. 75-Micheal Summers[13]; 17. 70-Eli Lakin[15]; 18. 19-Jett Mann[5]; 19. X-Mike Keegan[8]; 20. 27K-Zac Broughman[20]
Beacon & Bridge B Feature 1 12 Laps | 00:10:23.948
20A-Andy Chehowski[5]; 2. 10S-Jay Steinebach[2]; 3. 85-Dustin Daggett[11]; 4. 55-Matt Cogley[1]; 5. 27K-Zac Broughman[4]; 6. 6-Jimmy Ward[9]; 7. 07-Shane Simmons[6]; 8. 24-Levi Voyce[3]; 9. 19B-Brady Parmeley[8]; 10. (DNS) 88N-Frank Neill; 11. (DNS) 16C-Tylar Rankin
Engler Machine & Tool Heat 1 8 Laps | 00:16:22.970
71H-Max Stambaugh[1]; 2. 19-Jett Mann[2]; 3. 3-Kyle Locke[4]; 4. 2-Tyler Bearden[7]; 5. 75-Micheal Summers[9]; 6. 55-Matt Cogley[8]; 7. 27K-Zac Broughman[6]; 8. 88N-Frank Neill[5]; 9. 16C-Tylar Rankin[3]
Jim Coffey & Sons Plumbing & Heating Heat 2 8 Laps | 00:13:20.382
49T-Gregg Dalman[2]; 2. 7C-Phil Gressman[4]; 3. X-Mike Keegan[3]; 4. 27-Brad Lamberson[5]; 5. 3A-Mike Astrauskas[7]; 6. 10S-Jay Steinebach[8]; 7. 20A-Andy Chehowski[6]; 8. 19B-Brady Parmeley[9]; 9. 85-Dustin Daggett[1]
Beacon & Bridge Heat 3 8 Laps | 00:05:53.833
21M-Adam Cruea[1]; 2. 24D-Danny Sams III[4]; 3. 86-Keith Sheffer Jr[2]; 4. 01-Ryan Ruhl[3]; 5. 70-Eli Lakin[6]; 6. 24-Levi Voyce[5]; 7. 07-Shane Simmons[7]; 8. 6-Jimmy Ward[8]
Qualifying 1 | 00:14:58.116
3-Kyle Locke, 00:14.270[3]; 2. 7C-Phil Gressman, 00:14.398[11]; 3. 24D-Danny Sams III, 00:14.414[15]; 4. 16C-Tylar Rankin, 00:14.458[22]; 5. X-Mike Keegan, 00:14.494[1]; 6. 01-Ryan Ruhl, 00:14.674[20]; 7. 19-Jett Mann, 00:14.718[2]; 8. 49T-Gregg Dalman, 00:14.740[12]; 9. 86-Keith Sheffer Jr, 00:14.855[21]; 10. 71H-Max Stambaugh, 00:14.887[10]; 11. 85-Dustin Daggett, 00:14.989[9]; 12. 21M-Adam Cruea, 00:15.049[13]; 13. 88N-Frank Neill, 00:15.115[6]; 14. 27-Brad Lamberson, 00:15.152[25]; 15. 24-Levi Voyce, 00:15.236[14]; 16. 27K-Zac Broughman, 00:15.326[7]; 17. 20A-Andy Chehowski, 00:15.369[16]; 18. 70-Eli Lakin, 00:15.484[17]; 19. 2-Tyler Bearden, 00:15.522[19]; 20. 3A-Mike Astrauskas, 00:15.524[8]; 21. 07-Shane Simmons, 00:15.601[5]; 22. 55-Matt Cogley, 00:15.609[18]; 23. 10S-Jay Steinebach, 00:15.682[24]; 24. 6-Jimmy Ward, 00:16.041[23]; 25. 75-Micheal Summers, 00:16.121[4]; 26. 19B-Brady Parmeley, 00:21.095[26]
---
Article Credit: GLSS Staff Writer
Submitted By: Barry Marlow
Article Media
Back to News