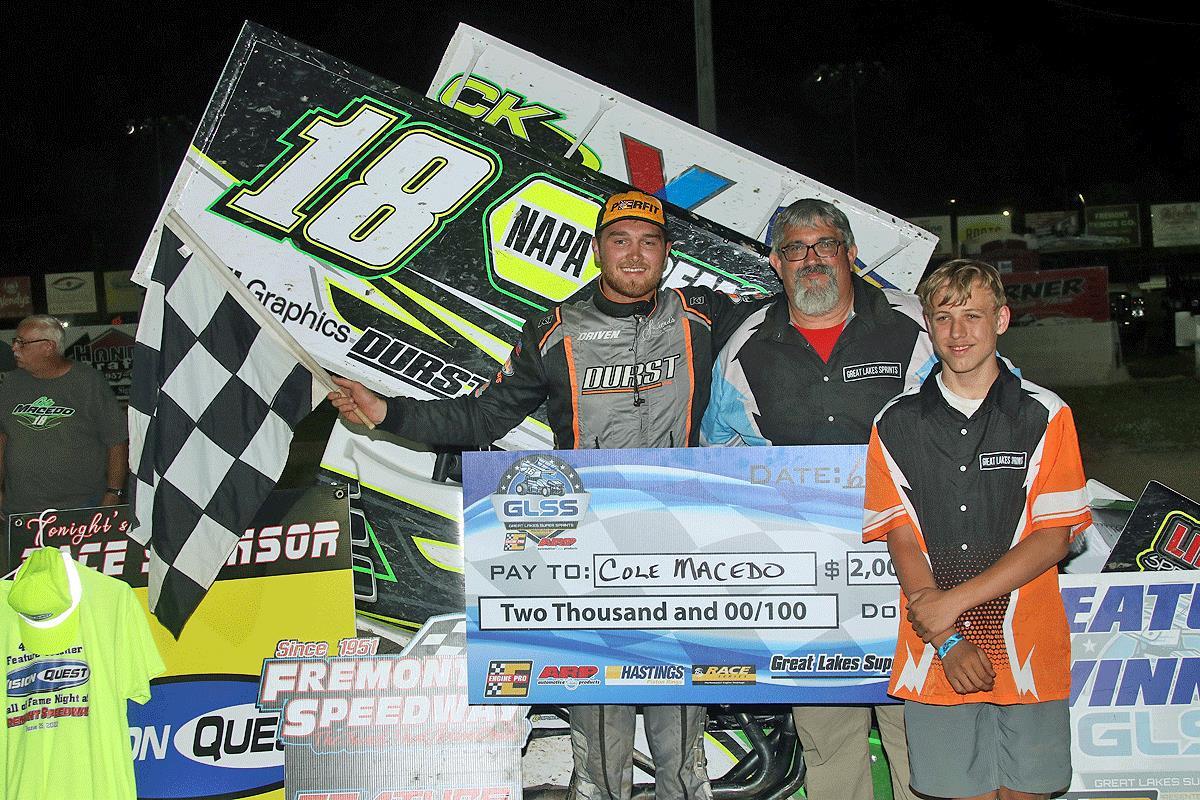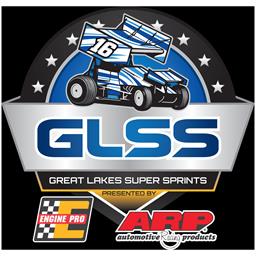 6/25/2022
Great Lakes Super Sprints
---
Macedo Takes First GLSS Win
Fremont, OH - Cole Macedo (Lamoore, CA) took the lead in the 25 lap Great Lakes Super Sprints presented by Engine Pro & ARP feature on lap six and the only thing that held up his march to victory was a late race caution as he had built a nearly six second lead. Macedo drove away to the victory, his third win of the year at Fremont and seventh career checkered flag at the track.
With 22 cars checked in tonight, in the first group of the night, Danny Sams III (North Port, FL) set fast time until Brad Lamberson took the track in the last group and set the TI22 Performance Fast Qualifier with a 13.289 second lap. moving Sams to 2nd and Mike Keegan (Fremont, OH) , Dustin Daggett (Portland, MI) and Phil Gressman (Fremont, OH) rounding out the top 5 spots.
In the Engler Machine & Tool Heat 1, Sams moved up from 4th to win the heat race. Max Stambaugh and Lamberson rounded out the top 3 spots.
Keith Sheffer (Jerome, MI) led the field and took the checkered flag to win the Jim Coffey & Sons Plumbing & Heating Heat 2. With Macedo and Creed Kemenah (Alvada, OH) rounding out the top 3.
In the Beacon & Bridge Markets Heat 3, Larry Kingseed Jr (Castalia, OH) takes the checkered and the win, with Daggett and Gregg Dalman (Bellevue, MI) rounding out the top 3.
The PErfit Feature rolled out with Sams and Daggett on the front row. As the field goes green, the track had a lot of bite coming out of turn 4, with Sams, Daggett and Lamberson having a hard time keeping their front wheels on the ground. Macedo gets around Daggett and Sams after 6 laps were scored.
Macedo never looked back, but did have a six second lead wiped out with late caution with 4 laps to go. As Macedo took the checkered, with Sams, Lamberson, Stambaugh and Daggett rounding out the top five cars.
Gressman starting 20th in the feature, put on his own show as he drove up twelve spots to 8th making him the Hoosier Race Tire Hard Charger for the night.
Great Lakes Super Sprints presented by Engine Pro & ARP will be back in action this Friday, July 1st at I-96 Speedway and then traveling to the Battle Grounds at Butler Motor Speedway.
Thank you to all of our sponsors, fans, tracks and teams that support Great Lakes Super Sprints presented by Engine Pro & ARP, without them none of this would be possible. Be sure to follow us on Facebook and Twitter (@GLSprints). For our schedule, results and points, go to our website at www.greatlakessprints.com.
Engine Pro & ARP (Automotive Racing Products)
PERFIT
Hoosier Racing Tires
Engler Machine & Tool
Jim Coffey & Son Plumbing and Heating
Beacon & Bridge Markets
EWRS, Inc
Specialty Fuels & Logistics
Addvance Heating & Cooling
Midland Steel
Ti22 Performance
MPD Racing
360 Sprints – Great Lakes Super Sprints
Qualifying
1.27K-Brad Lamberson, 13.289; 2.24D-Danny Sams III, 13.484; 3.X-Mike Keegan, 13.636; 4.85-Dustin Daggett, 13.664; 5.7C-Phil Gressman, 13.671; 6.18-Cole Macedo, 13.703; 7.49T-Gregg Dalman, 13.799; 8.71H-Max Stambaugh, 13.852; 9.15k-Creed Kemenah, 13.945; 10.21-Larry Kingseed Jr., 13.998; 11.1M-Brandon Moore, 14.033; 12.86-Keith Sheffer, 14.152; 13.4E-Bobby Elliott, 14.253; 14.10S-Jay Steinebach, 14.369; 15.21J-Linden Jones, 14.609; 16.55-Matt Cogley, 14.792; 17.19B-Brady Parmeley, 14.919; 18.1-Levi Poortenga, 15.062; 19.51-Garrett Craine, 15.287; 20.98-Robert Robenalt, 16.680;
Heat 1 - (8 Laps)
24D-Danny Sams III[4] ; 2. 71H-Max Stambaugh[2] ; 3. 27K-Brad Lamberson[5] ; 4. 1M-Brandon Moore[1] ; 5. 4E-Bobby Elliott[8] ; 6. 19B-Brady Parmeley[6] ; 7. 98-Robert Robenalt[7] ; 8. 7C-Phil Gressman[3]
Heat 2 - (8 Laps)
86-Keith Sheffer[1] ; 2. 18-Cole Macedo[3] ; 3. 15k-Creed Kemenah[2] ; 4. X-Mike Keegan[4] ; 5. 21J-Linden Jones[5] ; 6. 1-Levi Poortenga[6] ; 7. 70-Eli Lakin[7]
Heat 3 - (8 Laps)
21-Larry Kingseed Jr.[2] ; 2. 85-Dustin Daggett[4] ; 3. 49T-Gregg Dalman[3] ; 4. 10S-Jay Steinebach[1] ; 5. 55-Matt Cogley[5] ; 6. 51-Garrett Craine[6] ; 7. 97X-Rodney Hurst[7]
A-Main 1 - (25 Laps)
18-Cole Macedo[4] ; 2. 24D-Danny Sams III[1] ; 3. 27K-Brad Lamberson[7] ; 4. 71H-Max Stambaugh[6] ; 5. 85-Dustin Daggett[2] ; 6. 21-Larry Kingseed Jr.[5] ; 7. X-Mike Keegan[8] ; 8. 7C-Phil Gressman[20] ; 9. 1M-Brandon Moore[11] ; 10. 86-Keith Sheffer[3] ; 11. 15k-Creed Kemenah[9] ; 12. 4E-Bobby Elliott[21] ; 13. 49T-Gregg Dalman[10] ; 14. 10S-Jay Steinebach[12] ; 15. 97X-Rodney Hurst[19] ; 16. 55-Matt Cogley[14] ; 17. 51-Garrett Craine[17] ; 18. 19B-Brady Parmeley[15] ; 19. 21J-Linden Jones[13] ; 20. 1-Levi Poortenga[16] ; 21. 98-Robert Robenalt[18] ; 22. 70-Eli Lakin[22]
---
Article Credit: Brian Liskai and Barry Marlow
Submitted By: Barry Marlow
Article Media
Back to News