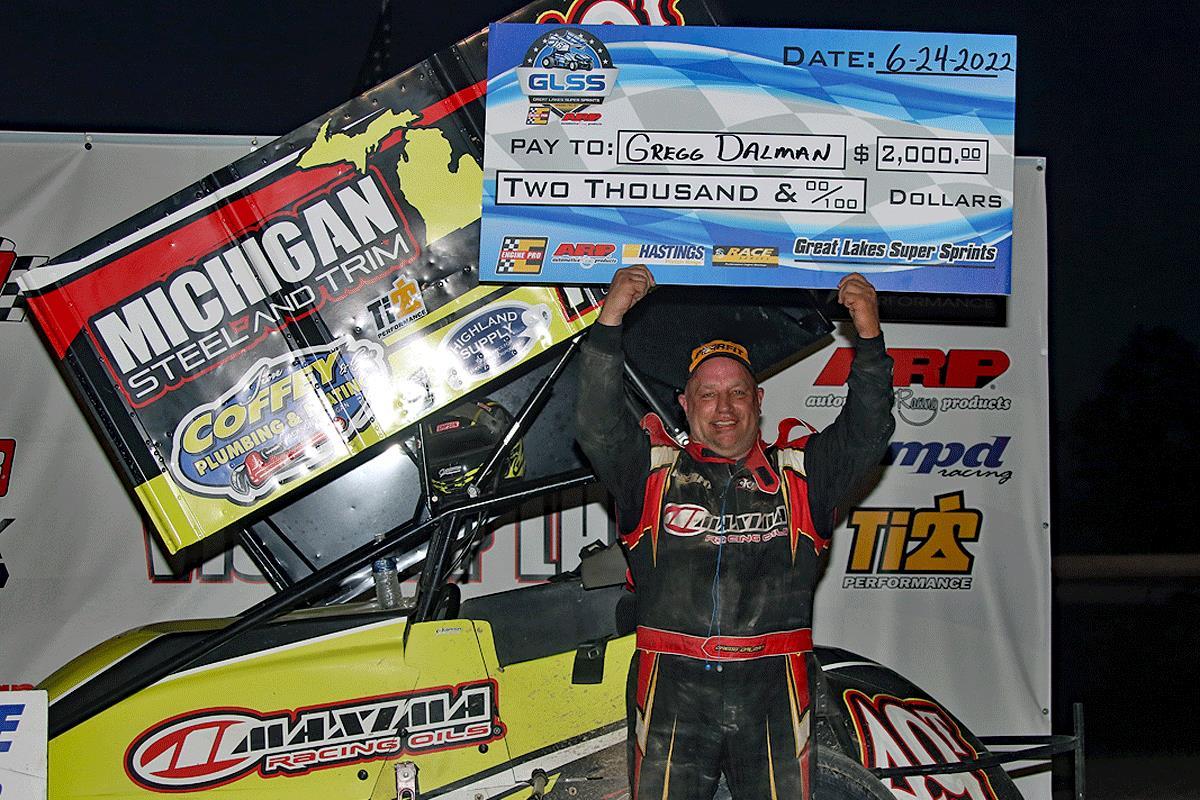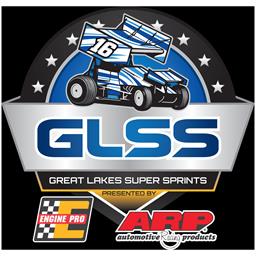 6/24/2022
Great Lakes Super Sprints
---
Dalman Takes the Short Route to Checker
Hartford, MI - Usually the short way around the track isn't the fastest way, but for Gregg Dalman (Bellevue, MI) it paid off tonight as he earned his second win of the 2022 Season: Starting 5th and reeling in 4 of the top drivers in the series.
Tonight was the first visit of the season for Great Lakes Super Sprints presented by Engine Pro and ARP since our first race in May was cancelled because of rain. We had 22 drivers registered and went out to qualify. Danny Sams III (Northport, FL) was sitting on top of the board earning him the TI22 Performance Fast Qualifier spot. Brad Lamberson (Parma, MI) and Brett Mann (Elkhart, IN) rounded out the top of the podium.
In the Engler Machine & Tool Heat Race 1, Danny Sams III cruised across the finish line over 2.5 seconds ahead of 2nd place finisher Ryan Ruhl (Coldwater, MI). Sams got out of the gate quick, in fact in lap 4, he topped his quick time qualifying by over 19 hundreths of a second. Phil Gressman (Fremont, OH) rounded out the podium by finishing 3rd.
Dalman showed speed and finesse in the Jim Coffey Plumbing & Heating Heat 2, Dalman gets by Andy Teunessen (Hastings, MI) coming out of turn 2 and never looked back. Lamberson worked his way by Logan Easterday (Coldwater, MI) and Teunessen making the redraw and finishing 2nd, holding off Teunessen who finished 3rd.
In the Beacon & Bridge Markets Heat 3, Max Stambaugh (Elida, OH) gets up on top and holds off the field to take the checkered flag 1 second ahead of a charging Dustin Daggett (Portland, MI). Keith Sheffer II holds on for 3rd and keeping some space between 4th finisher, Brett Mann tries to go high in turns 1 and 2, thinking the top will hold earlierl, but instead put himself in the doghouse that he had to claw his way back up front, finishing 4th.l
In the PErfit Feature, starting on the pole, Sams jumped out to an early lead and was on cruise control. During a caution, Sams had a flat right rear tire, forcing him to the work area to change it. Taking the lead in lap 14, Daggett looked like he would cruise right into the winners circle with Ruhl in tow. But working the bottom, Dalman was narrowing the gap actually cutting 2-5 tenths of a second off Daggetts lead until with 6 laps to go, Dalman takes Daggett and will not look back as takes the checkered flag about 1.7 seconds ahead of Daggett and 2.7 seconds ahead of Ruhl. Stambaugh and Sams rounded out the top 5.
Linden Jones (Edwardsburg, MI) fought ignition problems all night starting during qualifying. His hard work all evening paid off for him as he started 19th in the feature, but wsa able to drive up 10 spots ending with a top ten finish earning him 9th and the Hoosier Race Tire Hard Charger. Jay Steinebach also put on a show after a broken rear axle in his heat race and starting 15th in the heat race. Steinebach was able to move up 9 spots finishing 6th for the night.
Mike Astrauskas (Pierson, MI) earned the Engine Pro Lucky Dog award, earning him $50.
Our next race will be Saturday, June 25th at Fremont Speedway. We will be on the race card with the AFCS 410 sprints, AFCS 305 sprints and the Vintage sprints. It is Sprint Hall of Fame induction Day. This race is a "don't miss" race that should be on everyones schedule.
Thank you to all of our sponsors, fans, tracks and teams that support Great Lakes Super Sprints presented by Engine Pro & ARP, without them none of this would be possible. Be sure to follow us on Facebook and Twitter (@GLSprints). For our schedule, results and points, go to our website at www.greatlakessprints.com.
Engine Pro & ARP (Automotive Racing Products)
PERFIT
Hoosier Racing Tires
Engler Machine & Tool
Jim Coffey & Son Plumbing and Heating
Beacon & Bridge Markets
EWRS, Inc
Specialty Fuels & Logistics
Addvance Heating & Cooling
Midland Steel
Ti22 Performance
MPD Racing
Great Lakes Super Sprints Crystal Results
A Feature 1 25 Laps | 00:39:38.615
49T-Gregg Dalman[5]; 2. 85-Dustin Daggett[3]; 3. 01-Ryan Ruhl[6]; 4. 71H-Max Stambaugh[2]; 5. 24D-Danny Sams III[1]; 6. 10S-Jay Steinebach[15]; 7. 7C-Phil Gressman[7]; 8. 86-Keith Sheffer Jr[9]; 9. 21-Linden Jones[19]; 10. 87-Logan Easterday[11]; 11. 13-Andy Teunessen[8]; 12. 27-Brad Lamberson[4]; 13. 3A-Mike Astrauskas[16]; 14. 20A-Andy Chehowski[17]; 15. 11-Joe Conway[20]; 16. 1-Levi Poortenga[13]; 17. 19M-Brett Mann[12]; 18. 75-Micheal Summers[21]; 19. 19-Jett Mann[14]; 20. 70-Eli Lakin[10]; 21. 31-Joe Harden[22]; 22. (DNS) 10J-Chris Jones
Heat 1 8 Laps | 00:09:45.374
24D-Danny Sams III[4]; 2. 01-Ryan Ruhl[2]; 3. 7C-Phil Gressman[3]; 4. 70-Eli Lakin[1]; 5. 1-Levi Poortenga[6]; 6. 31-Joe Harden[8]; 7. 10J-Chris Jones[5]; 8. 75-Micheal Summers[7]
Heat 2 8 Laps | 00:04:30.374
49T-Gregg Dalman[2]; 2. 27-Brad Lamberson[4]; 3. 13-Andy Teunessen[1]; 4. 87-Logan Easterday[3]; 5. 19-Jett Mann[5]; 6. 3A-Mike Astrauskas[6]; 7. (DNS) 21-Linden Jones
Heat 3 8 Laps | 00:02:10.243
71H-Max Stambaugh[2]; 2. 85-Dustin Daggett[3]; 3. 86-Keith Sheffer Jr[1]; 4. 19M-Brett Mann[4]; 5. 10S-Jay Steinebach[7]; 6. 20A-Andy Chehowski[5]; 7. 11-Joe Conway[6]
Qualifying 1 99 Laps | 00:01:34.865
24D-Danny Sams III, 00:14.980[6]; 2. 27-Brad Lamberson, 00:15.118[14]; 3. 19M-Brett Mann, 00:15.202[9]; 4. 7C-Phil Gressman, 00:15.212[7]; 5. 87-Logan Easterday, 00:15.239[2]; 6. 85-Dustin Daggett, 00:15.245[18]; 7. 01-Ryan Ruhl, 00:15.258[4]; 8. 49T-Gregg Dalman, 00:15.398[13]; 9. 71H-Max Stambaugh, 00:15.424[11]; 10. 70-Eli Lakin, 00:15.491[8]; 11. 13-Andy Teunessen, 00:15.599[16]; 12. 86-Keith Sheffer Jr, 00:15.853[17]; 13. 10J-Chris Jones, 00:15.958[5]; 14. 19-Jett Mann, 00:16.020[20]; 15. 20A-Andy Chehowski, 00:16.085[10]; 16. 1-Levi Poortenga, 00:16.116[12]; 17. 31-Joe Harden, 00:16.141[22]; 18. 3A-Mike Astrauskas, 00:16.907[3]; 19. 11-Joe Conway, 00:17.140[19]; 20. 75-Micheal Summers, 00:17.781[15]; 21. (DNS) 21-Linden Jones, 00:17.781; 22. (DNS) 10S-Jay Steinebach, 00:17.781
---
Article Credit: GLSS Staff Writer
Submitted By: Barry Marlow
Article Media
Back to News