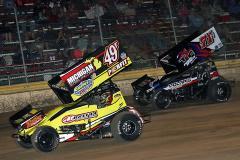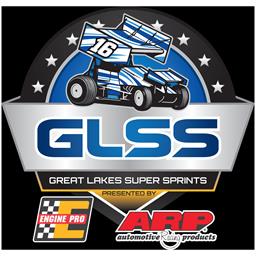 4/21/2023
GLSS-Great Lakes Super Sprints
---
GLSS Open 2023 Season at I-96 Speedway; UMP Late Models Return
Ionia, MI (Friday, April 21, 2023) - With the end of April comes the traditional beginning of the new race season for Michigan and the greater Great Lakes Region. Friday, the Great Lakes Super Sprints Presented by Engine Pro and ARP (GLSS) open the 2023 season alongside a fan favorite, DIRTcar UMP Late Models at the resurrected I-96 Speedway. GLSS owner/promoter, Barry Marlow is also promoting the season schedule at I-96 Speedway, which features nine events this season with specials for his Sprint Car series and special events for Late Models, Modifieds, Pro Stocks, and Midwest Dirt Compact Touring Series.
I-96 Speedway has been a fan favorite for GLSS events over the past few seasons, with nail bitting finishes, jaw-dropping action, and edge-of-your-seat entertainment all evening long. The same is expected for the season opener. Coming into the event, several drivers are looking for their shot at becoming a GLSS champion, and as fans already know, any one of a number of drivers in the field could walk away as a winner.
The Bulldog, Gregg Dalman comes into I-96 Speedway kicking off his 25th year of racing. The Bellevue, Michigan native grabbed two wins with GLSS in 2022, the first coming during the first trip to I-96 Speedway in May of last year. The grizzled veteran found speed and moisture on the bottom of the typically "rip the lip" style race track, and powered passed eventual series champion, "Mad" Max Stambaugh for the win. Dalman's second win came weeks later at Hartford Speedway.
As for the defending Champion, Stambaugh returns for a second season behind the wheel of the Smith Motorsports No.71H. It took the Lima, Ohio driver a few weeks to find the groove with his new team, but once Stambaugh found victory lane, he put on a clinic to wrap up his first career title. His first win didn't come until August 6th at Silver Bullett Speedway; he backed that up with another win the following week at Hartford, then a third at I-96 Speedway and another win at Butler Motor Speedway.
I-96 Speedway is the home of Brad Lamberson's first career sprint car win with GLSS. In what was an epic battle between he and Stambaugh, Lamberson used lapped traffic to his advantage to get and keep the lead. He had to hold off local favorite, Dustin Daggett to capture the highly popular win.
The 2018 GLSS Champion grabbed two feature wins in 2022, including one at his home track of I-96 and the other at Winston Speedway. Four times Daggett has been a runner-up in the Championship points standings, perhaps this is the season he becomes just the second repeat champion for the Great Lakes Super Sprints.
Other drivers to watch include Adrian, Michigan's, Darin Naida who will climb behind the wheel of the Steve Harding owned No.14H. 2019 GLSS Champion Phil Gressman is expected to be in attendance, as well as 2021 Champion Ryan Ruhl in his Home Pro Roofing No.50YR. Fans may also see two-time GLSS Champion, Jared Horstman, multi-time feature winner, Danny Sams III, Great Lakes Traditional Sprints Champion Keith Sheffer, Jr, Michigan Motorsports Hall of Fame driver, Jason Blonde, and regulars, Jay Steinebach, Eli Lakin, Frank Neill, Mike Astrauskas, Tylar Rankin, Kyle Poortenga, and many others.
Racing at I-96 Speedway begins at 7:45 PM. General Admission gates open at 5:00 PM with pits opening at 3:00 PM. Tickets are available at the gate.
---
Article Credit: Zach Hiser
Submitted By: Barry Marlow
Back to News