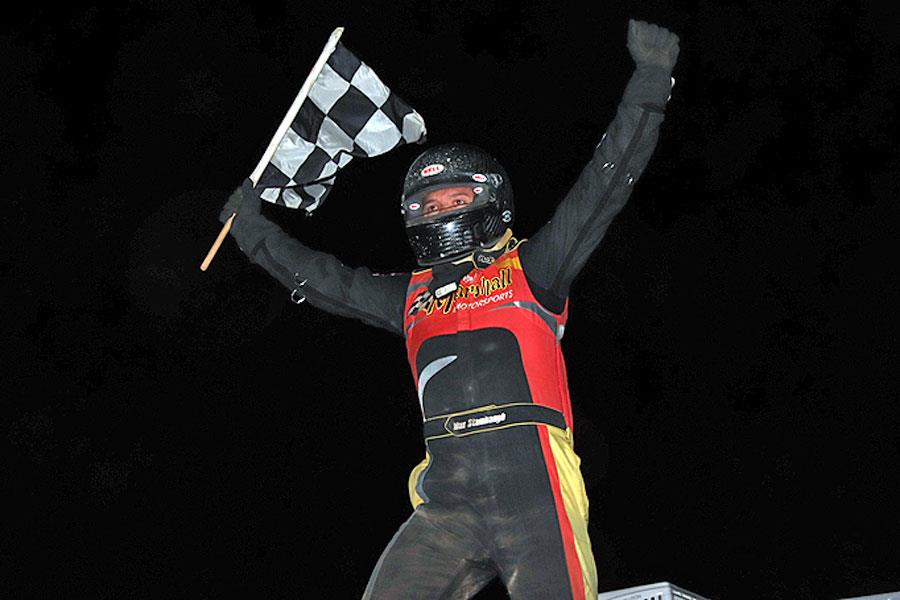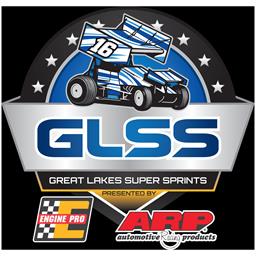 8/18/2023
GLSS-Great Lakes Super Sprints
---
STAMBAUGH WINS THE MARK STRPKO MEMORIAL
Lake Odessa, MI - Mother Nature shined down on us at I-96 Speedway tonight, giving us a fast track and wonderful weather for the 2nd Annual Mark Strpko Memorial race and Operating Engineers 324 night!. The fans and the racers came out to support us making it a memorable night! It was also a memorable night for Max Stambaugh (Elida, OH) and the Smith Motorsports Team as they found themselves in the winners circle a second time in the last two races.
After giving all the cars hot laps, we rolled right into single car qualifying. Devon Dobie (Wapakoneta, OH) stood alone at the top of the leader board as the TI22 Performance Fast Qualifier with an average speed of 116.3 mph. Only .119 tenths of a second seperated the top 5 cars, Stambaugh, JJ Hickle (Quilcene, WA, Jared Horstman (Cloverdale, OH) and Dustin Daggett (Portland, MI).
Rolling out for the Engler Machine & Tool Heat 1, Kelsey Ivy (Fremont, OH) jumped out to a lead and never looked back, taking the checkered flag in just 1.9 minutes! Dobie and Horstman rounded out the top three spots.
Jac Nicles (Harrod, OH) got a good jump on Ryan Ruhl (Coldwater, MI) and took the early lead. With the locked down fast track, Nickles put it on cruise control and took the checkered flag ahead of Stambabugh and Ruhl.
The Home Pro Roofing Heat 3 was lead by Chase Ridenour (Perry, MI) for 7 laps. With the white flag giving the one lap to go, Hickle got pased Ridenour for the lead. Hickle took the checkered flag with Ridenour and Brad Lamberson (Parma, MI) rounding out the top 3.
Dobie and Ivy led the field around for the green flag in the Engine Pro/PERFit A-Main.. As Dobie and Ivy took the green, the field roared to life and clicked off the first 10 laps in just 2 and a half minutes when a caution flew for Creed Kemenah (Alvada, OH) who was done for the night with a broken cam shaft.
As the saying goes, "Cautions breed cautions" and tonight was no different. With a rash of cautions following the first one, Dobie was running out of tricks to fight off the cars chasing him.on every restart. With 11 laps to go, Stambaugh got around Dobie and it was Stambaugh/Dobie till the 24th lap when Hickle and Lamberson got around Dobie at the finish.
Stambaugh held off Hickle at the line for the win and Lamberson finishes 3rd with Dobie and Daggett finishing 4th and 5th respectively.
We'd like to thank the Operating Engineers 324 for supporting and participating tonight at I-96 Speedway. Many of you may have heard of them but not really know who they are. Let me introduce them to you....
They Build...Roads, bridges, wind farms, pipelines, schools to skyscrapers. their members creat monuments!
They Operate...they're the operators and mechanics behind the advanced heavy machines that move Michigan forward.
They Maintain....Boilers and HVAC, their members run the complex heating and cooling systems that we all depend on.
Their training is second to none, and safety is their priority. They are Operating Engineers 324 and they keep Michigan running!!!
To learn how you can be a part of OE324, go to their website www.oe324.org.
The Great Lakes Super Sprints presented by Engine Pro and ARP will return to action Saturday, August 19th, at Butler Speedway near Quincy, MI.
To catch tonight's heat races and features, along with all the GLSS/NRA races, head over to the Great Lakes Super Sprints YouTube page. Make sure to follow us on Facebook, TikTok, Instagram, and Twitter for the latest updates. For news, schedules, results, and points, visit www.greatlakessprints.com and select your favorite division.
Thank you to our sponsors who are the ones that allow us to a great show to your local tracks. Please help us by supporting the sponsors listed below….
PErfit Corporation
Engine Pro & ARP Racing
Hoosier Racing Tires
Beacon & Bridge Markets
Operating Engineers Local 324
Engler Machine & Tool
Home Pro Roofing
Jim Coffey and Sons Plumbing & Heating
Howard Johnsons by Wyndham
Specialty Fuels & Logistics
Environmental Waste & Recovery Service
Precision Engine Works
TC Power Sports
Percision Engine Works
Media Res[ults for 8/18/2023 at I-96 Speedway - Lake Odessa, MI
Great Lakes Super Sprints 21 Entries
A Feature 1 25 Laps | 00:29:21.538 | Engine Pro
71H-Max Stambaugh[3]; 2. 50YR-JJ Hickle[6]; 3. 27-Brad Lamberson[9]; 4. 23-Devon Dobie[1]; 5. 85-Dustin Daggett[11]; 6. 01-Chase Ridenour[5]; 7. 20I-Kelsey Ivy[2]; 8. 11G-Luke Griffith[15]; 9. 31-Jac Nickles[4]; 10. 49T-Gregg Dalman[14]; 11. 14-Kyle Poortenga[16]; 12. 70-Eli Lakin[10]; 13. 10S-Jay Steinebach[18]; 14. 38-Max Frank[17]; 15. 14H-Ryan Ruhl[8]; 16. 86-Keith Sheffer Jr[13]; 17. X-Mike Keegan[20]; 18. 17-Jared Horstman[7]; 19. 67-Kevin Martens[21]; 20. 15K-Creed Kemenah[12]; 21. 3A-Mike Astrauskas[19]
Heat 1 8 Laps | Engler Machine & Tool
20I-Kelsey Ivy[2]; 2. 23-Devon Dobie[4]; 3. 17-Jared Horstman[3]; 4. 70-Eli Lakin[1]; 5. 86-Keith Sheffer Jr[6]; 6. 14-Kyle Poortenga[5]; 7. 3A-Mike Astrauskas[7]
Heat 2 8 Laps | Coffey & Sons Plumbing & Heating
31-Jac Nickles[2]; 2. 71H-Max Stambaugh[4]; 3. 14H-Ryan Ruhl[1]; 4. 85-Dustin Daggett[3]; 5. 49T-Gregg Dalman[5]; 6. 38-Max Frank[6]; 7. (DNS) X-Mike Keegan
Heat 3 8 Laps | Home Pro Roofing
50YR-JJ Hickle[4]; 2. 01-Chase Ridenour[1]; 3. 27-Brad Lamberson[3]; 4. 15K-Creed Kemenah[2]; 5. 11G-Luke Griffith[5]; 6. 10S-Jay Steinebach[6]; 7. 67-Kevin Martens[7]
Qualifying 1 | 00:00:28.551 | TI22 Performance
23-Devon Dobie, 00:13.933[7]; 2. 71H-Max Stambaugh, 00:13.952[2]; 3. 50YR-JJ Hickle, 00:13.986[9]; 4. 17-Jared Horstman, 00:14.026[17]; 5. 85-Dustin Daggett, 00:14.052[3]; 6. 27-Brad Lamberson, 00:14.146[21]; 7. 20I-Kelsey Ivy, 00:14.198[16]; 8. 31-Jac Nickles, 00:14.200[6]; 9. 15K-Creed Kemenah, 00:14.207[10]; 10. 70-Eli Lakin, 00:14.233[1]; 11. 14H-Ryan Ruhl, 00:14.296[20]; 12. 01-Chase Ridenour, 00:14.370[11]; 13. 14-Kyle Poortenga, 00:14.447[5]; 14. 49T-Gregg Dalman, 00:14.464[14]; 15. 11G-Luke Griffith, 00:14.473[4]; 16. 86-Keith Sheffer Jr, 00:14.485[13]; 17. 38-Max Frank, 00:14.576[8]; 18. 10S-Jay Steinebach, 00:14.636[15]; 19. 3A-Mike Astrauskas, 00:14.798[12]; 20. X-Mike Keegan, 00:15.198[18]; 21. 67-Kevin Martens, 00:15.731[19]
Hot Laps 1 | 00:07:35.906
27-Brad Lamberson[21]; 2. 71H-Max Stambaugh[2]; 3. 15K-Creed Kemenah[10]; 4. 20I-Kelsey Ivy[16]; 5. 17-Jared Horstman[17]; 6. 50YR-JJ Hickle[9]; 7. 31-Jac Nickles[6]; 8. 01-Chase Ridenour[11]; 9. 23-Devon Dobie[7]; 10. 14H-Ryan Ruhl[20]; 11. 49T-Gregg Dalman[14]; 12. 85-Dustin Daggett[3]; 13. 38-Max Frank[8]; 14. 10S-Jay Steinebach[15]; 15. 11G-Luke Griffith[4]; 16. 70-Eli Lakin[1]; 17. 86-Keith Sheffer Jr[13]; 18. 3A-Mike Astrauskas[12]; 19. 14-Kyle Poortenga[5]; 20. X-Mike Keegan[18]; 21. 67-Kevin Martens[19]
---
Article Credit: GLSS Staff Writer
Submitted By: Barry Marlow
Article Media
Back to News