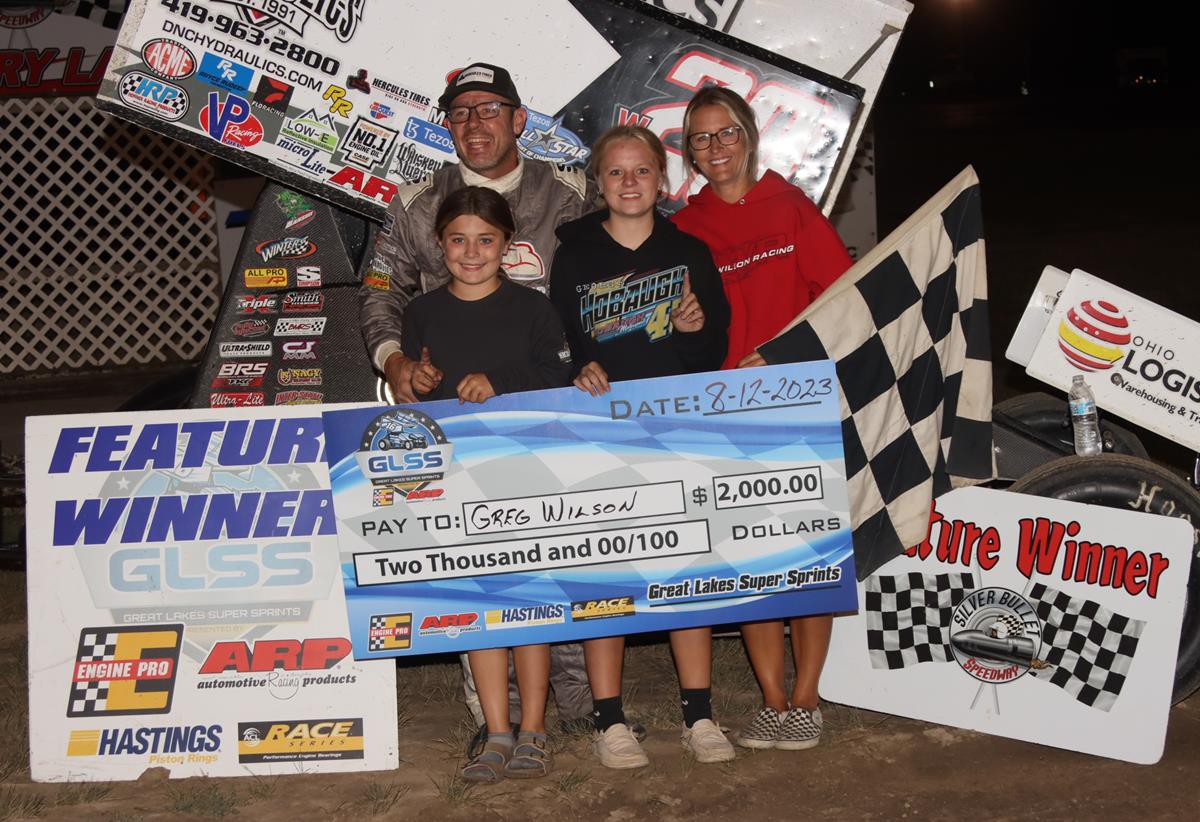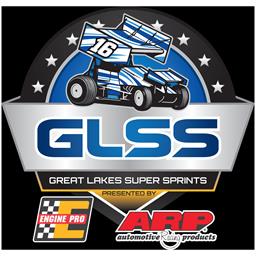 8/12/2023
GLSS-Great Lakes Super Sprints
---
WILSON TAKES WIN AT SILVER BULLET
Owendale, MI - Greg Wilson (Benton Ridge, OH), and his crew, put together a solid night at Silver Bullet Speedway that earned them their first ever Great Lakes Super Sprints presented by Engine Pro & ARP Feature win. Starting the weekend with a disapointing finish at Hartford Speedway on Friday, after suffering a bent front axle, Wilson, his wife and two daughters ("the crew") decided Saturday morning to keep the 360 engine in the car and head to Silver Bullet.
Silver Bullet Speedway sits in the "Thumb" of Michigan. You don't pass it going anywhere and you don't stumble upon it going through Michigan. You need to be looking for it and have it plugged in as your destination. The transformation of this track has been fun to watch and be a part of. The country park feel and family friendly atmosphere is both relaxing and enjoyable.
Kicking off the night, Dan McCarron (Britton, MI), set a new track record with an average lap time of 12.83 seconds, earning him the TI22 Performance Fast Qualifier. Creed Kemenah (Alvada, OH) was second quick at 12.95 seconds and Brad Lamberson (Parma, MI) rounded out the top 3 qualifiers with a 13 second lap.
Current GLSS Champion and North Points Leader, Max Stambaugh (Elida, OH) won the Engler Machine and Tool Heat 1, with Gregg Dalman (Bellevue, MI) and McCarron rounding out the top 3 finishiers.
The Coffey & Sons Plumbing and Heating Heat 2 was won by the 2018 GLSS Champion, Dustin Daggett (Portland, MI). Wilson and Kemenah chased Dagget to the checkered flag and rounded out the top 3 spots.
The top 3 finishers from each heat redrew for the front 3 rows starting order in the feature. Wilson's daughter was the team representative at the pill draw and unfortunately had to stand by as the other 5 teams drew their spots ahead of her. Maybe in a redeeming sort of way to correct the previous nights misfortunes, the only number left to draw was the coveted number 1 starting position.
Rolling out for the feature at 10 o'clock, Wilson and Kemenah led the field of cars to the green flag. Getting a good start from his outside position, Kemenah tried to beat Wilson to the first corner in turn one. With Wilson and Kemenah reaching the narrowest part of the track together, Kemenah was forced to commit to the outside as Wilson went low in turn one. Fortunately, Kemenah had enough speed and the outside stuck, allowing Kemenah to be the leader after 1 lap.
With the whole field clearing the first lap, the leaders settled into line waiting for their opportunities to come as everyone knew they would. Wilson got his opportunity in lap 17 when a hole opened. Wilson got by Kemenah and was our new leader.
With 23 laps of green flag racing, a late caution is thrown as a car couldn't clear in time as the field was qucikly approaching him. After a quick refire the field was set for a green, white checker. Wilson held on for the victory and McCarron made it past Kemenah in lap 24 for second and Creed took the checkered in 3rd.
The Great Lakes Super Sprints presented by Engine Pro and ARP will return to action Friday, August 18th, at I96 Speedway Speedway near Lake Odessa, MI.
To catch tonight's heat races and features, along with all the GLSS/NRA races, head over to the Great Lakes Super Sprints YouTube page. Make sure to follow us on Facebook, TikTok, Instagram, and Twitter for the latest updates. For news, schedules, results, and points, visit www.greatlakessprints.com and select your favorite division.
Thank you to our sponsors who are the ones that allow us to a great show to your local tracks. Please help us by supporting the sponsors listed below….
PErfit Corporation
Engine Pro & ARP Racing
Hoosier Racing Tires
Beacon & Bridge Markets
Operating Engineers Local 324
Engler Machine & Tool
Home Pro Roofing
Jim Coffey and Sons Plumbing & Heating
Howard Johnsons by Wyndham
Specialty Fuels & Logistics
Environmental Waste & Recovery Service
Precision Engine Works
TC Power Sports
Percision Engine Works
Media Results for 8/12/2023 at Silver Bullet Speedway - Owendale, MI
Great Lakes Super Sprints 15 Entries
A Feature 1 25 Laps | 00:14:51.531 | Engine Pro
W20-Greg Wilson[1]; 2. 22M-Dan McCarron[4]; 3. 15K-Creed Kemenah[2]; 4. 71H-Max Stambaugh[3]; 5. 85-Dustin Daggett[6]; 6. 27-Brad Lamberson[7]; 7. 49T-Gregg Dalman[5]; 8. 20I-Kelsey Ivy[11]; 9. 10S-Jay Steinebach[10]; 10. 3A-Mike Astrauskas[8]; 11. 89-Chris Pobanz[13]; 12. 2T-Ralph Brakenberry[12]; 13. 67-Kevin Martens[14]; 14. 23-Tank Brakenberry[15]; 15. (DNS) X-Mike Keegan
Engler Machine & Tool Heat 1 8 Laps | 00:02:15.641 |
71H-Max Stambaugh[2]; 2. 49T-Gregg Dalman[1]; 3. 22M-Dan McCarron[4]; 4. 27-Brad Lamberson[3]; 5. X-Mike Keegan[6]; 6. 20I-Kelsey Ivy[5]; 7. 89-Chris Pobanz[8]; 8. 23-Tank Brakenberry[7]
Coffey & Sons & HeatingHeat 2 8 Laps | 00:02:17.424 |
85-Dustin Daggett[2]; 2. W20-Greg Wilson[1]; 3. 15K-Creed Kemenah[4]; 4. 3A-Mike Astrauskas[3]; 5. 10S-Jay Steinebach[5]; 6. 2T-Ralph Brakenberry[6]; 7. 67-Kevin Martens[7]
TI22 Performance Fast Qualifier Q1 | 00:01:39.210 |
22M-Dan McCarron, 00:12.837[5]; 2. 15K-Creed Kemenah, 00:12.958[8]; 3. 27-Brad Lamberson, 00:13.008[7]; 4. 3A-Mike Astrauskas, 00:13.348[3]; 5. 71H-Max Stambaugh, 00:13.402[10]; 6. 85-Dustin Daggett, 00:13.488[11]; 7. 49T-Gregg Dalman, 00:13.625[4]; 8. W20-Greg Wilson, 00:13.675[12]; 9. 20I-Kelsey Ivy, 00:13.689[1]; 10. 10S-Jay Steinebach, 00:14.019[14]; 11. X-Mike Keegan, 00:14.034[9]; 12. 2T-Ralph Brakenberry, 00:14.225[2]; 13. 23-Tank Brakenberry, 00:14.971[6]; 14. 67-Kevin Martens, 00:15.908[13]; 15. (DNS) 89-Chris Pobanz, 00:15.908
---
Article Credit: GLSS Staff Writer
Submitted By: Barry Marlow
Article Media
Back to News