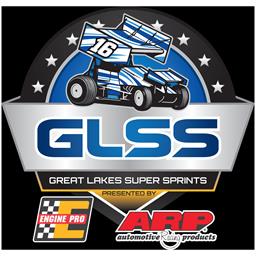 7/3/2023
GLSS-Great Lakes Super Sprints
---
KEEGAN HOLDS OFF MACEDO & GRESSMAN AT THE LINE
Waynesfield, OH - Fremont Ohio native, Mike Keegan, bags his second feature win of the season tonight at Waynesfield Raceway Park! The NRA Sprint Invaders, the Buckeye Division of the Great Lakes Super Sprints presented by Engine Pro & ARP rolled into WRP to take part in the annual All Sprints Jack Hewitt Classic.
With a late afternoon rain shower, officials at WRP delayed the start of the evening for about an hour. One thing everyone on hand knew was that the rain would make a locked down, fast track...and it was. Taking the track last for qualifying the NRA/GLSS drivers still had a super fast track with Kyle Sauder (Archbold, OH) being the Ti22 Performance Fast Qualifier with a blistering 11.128 second lap at an average speed of 107.7 mph! Brad Lamberson (Parma, MI) and Max Stambaugh (Elida, OH) rounded out the top 3 quick times with 11.147 and 11.197 second laps respectively.
Rolling out for the Engine Pro Feature, Keegan jumped out for the lead early with past champion Phil Gressman (Fremont, OH) and Cole Macedo (Lemoore, CA) staying on his tail as they quickly caught up to lap traffic. Keegan made it around the first car and as Gressman was coming into turn 4, the lapped car started to spin and then dug in and flopped on it's side. The car and driver were fine and was able to fire and tag the back of the field. During the red, Macedo learned of a broke radius rod and was taken to the work area.
Getting the car fixed in the two minute allotted time, Macedo returned to the track and tagged the tail. As the green flag dropped, it was all Keegan and Gressman at the front with 18 laps to go. With three laps to go, Macedo had clawed his way back up to 3rd. As Keegan, Macedo and Gressman took the white flag, Macedo gets around Gressman for 2nd. But as the trio enters turn 3, Gressman goes high and Macedo goes low, both trying to split Keegan. Coming out of turn 4, all 3 cars are side by side, With Gressman getting squeezed up into the turn 4 wall and Keegan trying to keep Macedo behind him, Keegan does just that, taking the checkered for his second feature win of the year.
Macedo finishes 2nd by .087 seconds and Gressman finishes third. Kobe Allison (Lima, OH) was tonights Hooiser Racing Tires Hard Charger moving up 7 spots and finishing 12th.
Great Lakes Super Sprints presented by Engine Pro and ARP will be back in action Friday, July 7th at Hartford Speedway and Merritt Speedway on July 8th! The next Ohio show will be on Friday, July 14th at Limaland Motorsports Park.
To catch tonight's heat races and features, and all the GLSS/NRA races, go to the Great Lakes Super Sprints YouTube page. Be sure to follow the page and follow us on Facebook, TikTok, Instagram, and Twitter! For all the news, schedules, results and points, go to www.greatlakessprints.com and click on your favorite division.
Thank you to all of our Sponsors who allow us to do what we love and race every weekend. Your support of our sponsors helps show them your appreciation for bringing great sprint car racing at all local dirt tracks.
PErfit Corporation
Engine Pro & ARP Racing
Hoosier Racing Tires
Beacon & Bridge Markets
Operating Engineers Local 324
Engler Machine & Tool
Home Pro Roofing
Jim Coffey and Sons Plumbing & Heating
Howard Johnsons by Wyndham
Specialty Fuels & Logistics
Environmental Waste & Recovery Service
Precision Engine Works
TC Power Sports
Genesis Rescue Systems
Media Results for 7/3/2023
Waynesfield Raceway Park - Waynesfield, OH
Great Lakes Super Sprints 25 Entries
ENGINE PRO Feature 1 25 Laps | 00:19:06.977
X-Mike Keegan[2]; 2. 29-Cole Macedo[6]; 3. 7C-Phil Gressman[3]; 4. 11G-Luke Griffith[1]; 5. 17-Jared Horstman[8]; 6. 27-Brad Lamberson[7]; 7. 22H-Randy Hannagan[9]; 8. 23-Devon Dobie[11]; 9. 20I-Kelsey Ivy[5]; 10. 16C-Tylar Rankin[12]; 11. 14H-Darin Naida[13]; 12. 24-Kobe Allison[19]; 13. 31-Jac Nickles[10]; 14. 49I-John Ivy[16]; 15. 0-Brayton Phillips[15]; 16. 88N-Frank Neill[18]; 17. X15-Kasey Ziebold[17]; 18. 11H-Caleb Harmon[14]; 19. 97X-Rodney Hurst[20]; 20. 2-Kyle Sauder[4]
ENGLER MACHINE & TOOL Heat 1 8 Laps | 00:06:53.000
7C-Phil Gressman[2]; 2. 2-Kyle Sauder[4]; 3. 17-Jared Horstman[5]; 4. 31-Jac Nickles[1]; 5. 14H-Darin Naida[3]; 6. 49I-John Ivy[7]; 7. 88N-Frank Neill[8]; 8. 97X-Rodney Hurst[9]; 9. (DNS) 73C-Cody Fendley
HOWARD JOHNSON OF LIMA Heat 2 8 Laps | 00:14:25.000
11G-Luke Griffith[2]; 2. 20I-Kelsey Ivy[1]; 3. 27-Brad Lamberson[4]; 4. 23-Devon Dobie[3]; 5. 11H-Caleb Harmon[7]; 6. 2B-Noah Dunlap[6]; 7. 24-Kobe Allison[5]; 8. (DNS) 51M-Haldon Miller
PERFIT CORPORATION Heat 3 8 Laps | 00:07:01.000
X-Mike Keegan[1]; 2. 29-Cole Macedo[3]; 3. 22H-Randy Hannagan[5]; 4. 16C-Tylar Rankin[2]; 5. 0-Brayton Phillips[6]; 6. X15-Kasey Ziebold[7]; 7. 71H-Max Stambaugh[4]; 8. 16E-Caleb Erwin[8]
Ti Performance Qualifying 1 | 00:10:53.000
2-Kyle Sauder, 00:11.128[11]; 2. 27-Brad Lamberson, 00:11.147[5]; 3. 71H-Max Stambaugh, 00:11.197[2]; 4. 14H-Darin Naida, 00:11.225[4]; 5. 23-Devon Dobie, 00:11.234[18]; 6. 29-Cole Macedo, 00:11.291[3]; 7. 7C-Phil Gressman, 00:11.312[9]; 8. 11G-Luke Griffith, 00:11.328[6]; 9. 16C-Tylar Rankin, 00:11.415[19]; 10. 31-Jac Nickles, 00:11.434[22]; 11. 20I-Kelsey Ivy, 00:11.441[13]; 12. X-Mike Keegan, 00:11.444[23]; 13. 17-Jared Horstman, 00:11.516[17]; 14. 24-Kobe Allison, 00:11.550[25]; 15. 22H-Randy Hannagan, 00:11.575[10]; 16. 73C-Cody Fendley, 00:11.585[7]; 17. 2B-Noah Dunlap, 00:11.655[21]; 18. 0-Brayton Phillips, 00:11.656[20]; 19. 49I-John Ivy, 00:11.662[1]; 20. 11H-Caleb Harmon, 00:11.778[15]; 21. X15-Kasey Ziebold, 00:11.846[14]; 22. 88N-Frank Neill, 00:12.003[24]; 23. 51M-Haldon Miller, 00:12.143[8]; 24. 16E-Caleb Erwin, 00:12.352[16]; 25. 97X-Rodney Hurst, 00:12.640[12]
---
Article Credit: GLSS Staff Writer
Submitted By: Barry Marlow
Article Media
Back to News