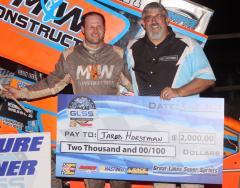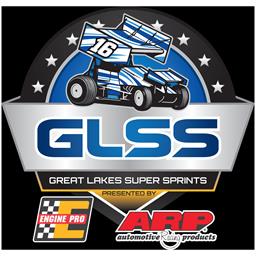 5/12/2023
GLSS-Great Lakes Super Sprints
---
HORSTMAN WINS MICHIGAN OPENER
Lake Odessa, MI - Two time Great Lakes Super Sprints presented by Engine Pro & ARP Champion, Jared Horstman (Cloverdale, OH), tops the field at I-96 Speedways opener to bring home his first feature win of the season.
The faithful fans of I-96 Speedway took the chance to drive to the track and help support opening night of the 2023 race season! They were rewarded with a great field of cars, including 5 of the 6 GLSS past champions on hand.
The night started out with a bang, as Devon Dobie (Wapakoneta, OH) took the track first for single car qualifying and set a new track record of 13.9 seconds, which is rougly averaging 104 miles per hour! Ryan Ruhl (Coldwater, MI) and Phil Gressman (Fremont, OH) who were 2nd and 3rd quick respectively set times under the previous record of 14.05 seconds. Horstman and Brad Lamberson (Parma, MI) rounded out the top five.
In the Engler Tool & Machine Heat one, Danny Sams III took home the win with Horstman and Dustin Daggett (Portland, MI) rounding out the top 3.
Mike Keegan (Fremont, OH) took the checkered in the Jim Coffey & Sons Plumbing & Heating Heat 2. Tyler Rankin (Coldwater, MI) and Lamberson rounded out the top 3.
In the Home Pro Roofing Heat 3, Darin Naida (Adrian, MI) took the victory as Jason Blonde (Litchfield, MI) and Gressman rounded out the top 3.
Sitting the pace early, Sams was on cruise control early, until he came up on a slower car as he was ripping the lip thru turn 4. With no where to go he made hard contact with the car and also getting caught up coming out of the middle of turn 4 was Naida, coming down hard as his car stood up on the tail tank and bounced right side up and bringing out the red.
Horstman was the new leader and he flew up through the field lapping up to 10th place. Taking the checkered broke a short dry spell for Horstman and helped him put his electrical shock from a couple weeks ago in Tennessee behind him.
Our next race for the North Division of GLSS is Hartford Motor Speedway on Friday, May 19th, while the NRA South Division will be back at Limaland Motorsports park on the same night.
Thank you to our sponsors who are the ones that allow us to a great show to your local tracks. Please help us by supporting the sponsors listed below….
PErfit Corporation
Engine Pro & ARP Racing
Hoosier Racing Tires
Beacon & Bridge Markets
Operating Engineers Local 324
Engler Machine & Tool
Home Pro Roofing
Jim Coffey and Sons Plumbing & Heating
Howard Johnsons by Wyndham
Specialty Fuels & Logistics
Environmental Waste & Recovery Service
Precision Engine Works
TC Power Sports
Percision Engine Works
RESULTS FROM I-96 SPEEDWAY, FRIDAY, MAY 12, 2023
A Feature 1 25 Laps | 00:29:31.831
17-Jared Horstman[6]; 2. 27-Brad Lamberson[11]; 3. 23-Devon Dobie[7]; 4. 71H-Max Stambaugh[12]; 5. X-Mike Keegan[4]; 6. 85-Dustin Daggett[10]; 7. 50YR-Ryan Ruhl[8]; 8. 7C-Phil Gressman[9]; 9. 49T-Gregg Dalman[15]; 10. 42-Boston Mead[21]; 11. 19-Jett Mann[14]; 12. 86-Keith Sheffer Jr[18]; 13. 70-Eli Lakin[13]; 14. 10-Jason Blonde[1]; 15. 16C-Tylar Rankin[5]; 16. 0-Brayton Phillips[17]; 17. 2-AJ Aldrich[16]; 18. 24-Levi Voyce[20]; 19. 24D-Danny Sams III[3]; 20. 14H-Darin Naida[2]; 21. 3A-Mike Astrauskas[19]; 22. 5X-Trent Musk[22]; 23. 67-Kevin Martens[23]
Heat 1 8 Laps
24D-Danny Sams III[2]; 2. 17-Jared Horstman[3]; 3. 85-Dustin Daggett[1]; 4. 23-Devon Dobie[4]; 5. 70-Eli Lakin[7]; 6. 2-AJ Aldrich[6]; 7. 3A-Mike Astrauskas[8]; 8. (DNS) 38-Max Frank; 9. (DNS) 20A-Andy Chehowski
Heat 2 8 Laps
X-Mike Keegan[1]; 2. 16C-Tylar Rankin[2]; 3. 27-Brad Lamberson[3]; 4. 50YR-Ryan Ruhl[4]; 5. 19-Jett Mann[6]; 6. 0-Brayton Phillips[5]; 7. 24-Levi Voyce[7]; 8. 5X-Trent Musk[8]; 9. (DNS) 10S-Jay Steinebach
Heat 3 8 Laps
14H-Darin Naida[1]; 2. 10-Jason Blonde[2]; 3. 7C-Phil Gressman[4]; 4. 71H-Max Stambaugh[3]; 5. 49T-Gregg Dalman[5]; 6. 86-Keith Sheffer Jr[6]; 7. 42-Boston Mead[7]; 8. 67-Kevin Martens[8]
Qualifying 1 | 00:15:53.000
23-Devon Dobie, 00:13.913[1]; 2. 50YR-Ryan Ruhl, 00:13.967[8]; 3. 7C-Phil Gressman, 00:13.990[5]; 4. 17-Jared Horstman, 00:14.100[24]; 5. 27-Brad Lamberson, 00:14.121[13]; 6. 71H-Max Stambaugh, 00:14.125[15]; 7. 24D-Danny Sams III, 00:14.127[9]; 8. 16C-Tylar Rankin, 00:14.131[21]; 9. 10-Jason Blonde, 00:14.182[17]; 10. 85-Dustin Daggett, 00:14.251[18]; 11. X-Mike Keegan, 00:14.320[7]; 12. 14H-Darin Naida, 00:14.369[26]; 13. 38-Max Frank, 00:14.391[2]; 14. 0-Brayton Phillips, 00:14.395[19]; 15. 49T-Gregg Dalman, 00:14.480[25]; 16. 2-AJ Aldrich, 00:14.484[10]; 17. 19-Jett Mann, 00:14.514[14]; 18. 86-Keith Sheffer Jr, 00:14.583[23]; 19. 70-Eli Lakin, 00:14.747[20]; 20. 24-Levi Voyce, 00:15.160[16]; 21. 42-Boston Mead, 00:15.336[22]; 22. 3A-Mike Astrauskas, 00:15.429[11]; 23. 5X-Trent Musk, 00:16.354[3]; 24. (DNS) 67-Kevin Martens, 00:16.355; 25. (DNS) 20A-Andy Chehowski, 00:16.356; 26. (DNS) 10S-Jay Steinebach, 00:16.357
---
Article Credit: Barry M. Marlow
Submitted By: Barry Marlow
Article Media
Back to News