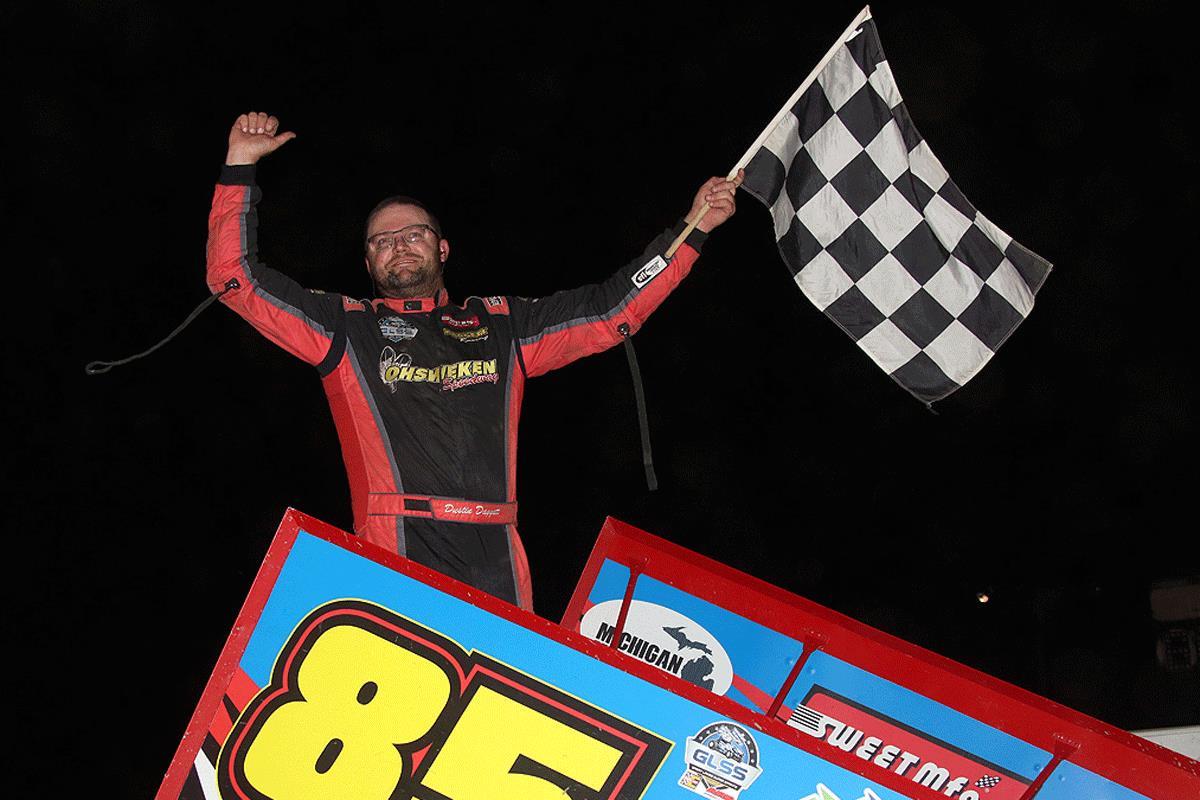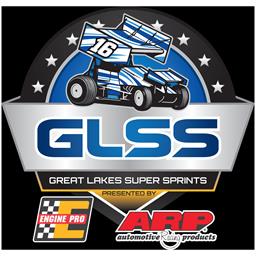 7/1/2022
Great Lakes Super Sprints
---
Fireworks Follow Daggetts Win at I-96 Speedway
Lake Odessa, MI – Local fan favorite and 2018 Great Lakes Super Sprints presented by Engine Pro & ARP Champion, Dustin Daggett of Portland, MI took advantage of his front row starting position to bring home the win in front of vocal sprint car crowd tonight at I-96 Speedway.
With 24 registered winged sprints on hand, 2020 GLSS Champion, Phil Gressman (Fremont, OH) was up on the wheel and standing on the peddle to bring home the Ti22 Performance Fast Qualifier with a quick time of 14.168 or roughly an average speed of 103 mph. Danny Sams III (North Port, FL), Max Stambaugh (Elida, OH), Brad Lamberson (Parma, MI) and Daggett rounded out the top 5 fast qualifiers.
The Bulldog, Gregg Dalman, kicks off the night by winning the Engler Machine and Tool Heat 1, leading all 8 laps. 2021 GLSS Champion Ryan Ruhl (Coldwater, MI) hangs on for 2nd with Gressman, Lamberson and Max Frank (Williamston, MI) rounding out the top five.
In the Jim Coffey Plumbing & Heating Heat 2, Sams is on the rails holding off Daggett for the win. 2016 GLSS Champion Chase Ridenour holds on for 3rd, with Logan Easterday (Coldwater, MI) and Kelsey Ivy (Fremont, OH) rounding out the top five.
Keith Sheffer, Jr puts himself into the redraw and a favorable position by winning the Beacon and Bridge Markets Heat 3. Stambaugh keeps himself in the redraw with a 2nd finish, while rookie Bobby Elliot (Allenton, MI) in only his 2nd start, holds his own bringing home a 3rd place finish. Kyle Poortenga (Woodland, MI) and Jay Steinebach (Hudsonville, MI) round out the top 5.
Seasoned veterans Dalman and Daggett who have raced hundreds of times together start side by side on the front row to start the PErfit A-Feature. Leading 24 cars around the track cleanly for lap one, Joel Hummel (Nashville, MI) runs into a power steering failure going into turn 1 bringing out a caution and a temporary fire. Restarting single file for lap two, the field of 23 cars put on a show GLSS has become known for, 24 green flag laps of slicing and dicing all the way to the checkered flag.
Sams was able to keep Daggett close, but with no cautions and the heavy lapped traffic from lap 8 on, Sams wasn't able to reel Daggett in, but was able to hold on to 2nd, holding his slim lead over Stambaugh who finished a very consistent 3rd. Dalman and Lamberson rounded out the top 5 finishers.
Brad Lamberson, who started 10th, was tonight's Hoosier Racing Tire Hard Charger.
Great Lakes Super Sprints presented by Engine Pro & ARP will be back in action tomorrow at the Battle Grounds at Butler Motor Speedway.
Thank you to all of our sponsors, fans, tracks and teams that support Great Lakes Super Sprints presented by Engine Pro & ARP, without them none of this would be possible. Be sure to follow us on Facebook and Twitter (@GLSprints). For our schedule, results and points, go to our website at www.greatlakessprints.com.
Engine Pro & ARP (Automotive Racing Products)
PERFIT
Hoosier Racing Tires
Engler Machine & Tool
Jim Coffey & Son Plumbing and Heating
Beacon & Bridge Markets
EWRS, Inc
Specialty Fuels & Logistics
Addvance Heating & Cooling
Midland Steel
Ti22 Performance
MPD Racing
PErfit A Feature 1 25 Laps | 00:07:36.398
85-Dustin Daggett[2]; 2. 24D-Danny Sams III[4]; 3. 71H-Max Stambaugh[5]; 4. 49T-Gregg Dalman[1]; 5. 27-Brad Lamberson[10]; 6. 7C-Phil Gressman[7]; 7. 86-Keith Sheffer Jr[6]; 8. 01-Ryan Ruhl[3]; 9. 16B-Chase Ridenour[8]; 10. 10S-Jay Steinebach[15]; 11. 84-Kyle Poortenga[12]; 12. 4E-Bobby Elliott[9]; 13. 38-Max Frank[13]; 14. 88N-Frank Neill[18]; 15. 87-Logan Easterday[11]; 16. 55-Matt Cogley[20]; 17. 20A-Andy Chehowski[16]; 18. 70-Eli Lakin[17]; 19. 19-Jett Mann[23]; 20. 11-Joe Conway[21]; 21. 20I-Kelsey Ivy[14]; 22. 54-Joel Hummel[19]; 23. 1-Levi Poortenga[22]; 24. 3A-Mike Astrauskas[24]
Engler Machine & Tool Heat 1 8 Laps | 00:03:32.778
49T-Gregg Dalman[1]; 2. 01-Ryan Ruhl[2]; 3. 7C-Phil Gressman[4]; 4. 27-Brad Lamberson[3]; 5. 38-Max Frank[5]; 6. 20A-Andy Chehowski[7]; 7. 54-Joel Hummel[8]; 8. 1-Levi Poortenga[6]
Coffey & Sons Plumbing & Heating Heat 2 8 Laps | 00:06:09.763
24D-Danny Sams III[4]; 2. 85-Dustin Daggett[3]; 3. 16B-Chase Ridenour[5]; 4. 87-Logan Easterday[2]; 5. 20I-Kelsey Ivy[6]; 6. 70-Eli Lakin[7]; 7. 55-Matt Cogley[8]; 8. 19-Jett Mann[1]
Beacon & Bridge Markets Heat 3 8 Laps | 00:02:08.864
86-Keith Sheffer Jr[2]; 2. 71H-Max Stambaugh[4]; 3. 4E-Bobby Elliott[1]; 4. 84-Kyle Poortenga[3]; 5. 10S-Jay Steinebach[5]; 6. 88N-Frank Neill[6]; 7. 11-Joe Conway[8]; 8. 3A-Mike Astrauskas[7]
Ti22 Performance Qualifying 1 | 00:00:48.757
7C-Phil Gressman, 00:14.168[8]; 2. 24D-Danny Sams III, 00:14.234[18]; 3. 71H-Max Stambaugh, 00:14.239[21]; 4. 27-Brad Lamberson, 00:14.278[22]; 5. 85-Dustin Daggett, 00:14.348[12]; 6. 84-Kyle Poortenga, 00:14.413[13]; 7. 01-Ryan Ruhl, 00:14.448[10]; 8. 87-Logan Easterday, 00:14.476[1]; 9. 86-Keith Sheffer Jr, 00:14.521[16]; 10. 49T-Gregg Dalman, 00:14.555[7]; 11. 19-Jett Mann, 00:14.676[19]; 12. 4E-Bobby Elliott, 00:14.739[5]; 13. 38-Max Frank, 00:14.928[9]; 14. 16B-Chase Ridenour, 00:14.994[20]; 15. 10S-Jay Steinebach, 00:15.002[4]; 16. 1-Levi Poortenga, 00:15.019[11]; 17. 20I-Kelsey Ivy, 00:15.043[6]; 18. 88N-Frank Neill, 00:15.116[15]; 19. 20A-Andy Chehowski, 00:15.295[3]; 20. 70-Eli Lakin, 00:15.321[17]; 21. 3A-Mike Astrauskas, 00:15.367[2]; 22. 54-Joel Hummel, 00:16.040[14]; 23. 55-Matt Cogley, 00:16.042[24]; 24. 11-Joe Conway, 00:16.198[23]
Hot Laps 1 | 00:16:35.805
85-Dustin Daggett; 2. 24D-Danny Sams III; 3. 71H-Max Stambaugh; 4. 49T-Gregg Dalman[7]; 5. 86-Keith Sheffer Jr; 6. 27-Brad Lamberson; 7. 01-Ryan Ruhl; 8. 7C-Phil Gressman[8]; 9. 16B-Chase Ridenour; 10. 10S-Jay Steinebach[4]; 11. 20I-Kelsey Ivy[6]; 12. 84-Kyle Poortenga; 13. 4E-Bobby Elliott[5]; 14. 55-Matt Cogley; 15. 87-Logan Easterday[1]; 16. 38-Max Frank; 17. 88N-Frank Neill; 18. 70-Eli Lakin; 19. 20A-Andy Chehowski[3]; 20. 11-Joe Conway; 21. 19-Jett Mann; 22. 3A-Mike Astrauskas[2]; 23. 1-Levi Poortenga; 24. 54-Joel Hummel
---
Article Credit: GLSS Staff Writer
Submitted By: Barry Marlow
Article Media
Back to News